BROWSE UF PRO P-40 TACTICAL PANTS
BUILT FOR COMFORT FROM THE BOTTOM UP.
Try them on once. That's all it takes to see why so many consider UF PRO P-40's the best you can buy. We studied the human body to learn how it actually moves. Then we took what we learned and used it to create pants that move with you. We also added features we knew you'd love. Like extra-big pockets. Sturdy belt loops. And knee pads that always stay right where you need them.
WHICH UF PRO TACTICAL PANTS ARE RIGHT FOR YOU?
Choose the tough-as-nails P-40 All-Terrain and Tac-2 models or the lightweight P-40 Classic and Urban pants. Our P-40 even come in shorts for those broiling hot summer days. No matter the terrain or task, we've got you covered.
A little wider than expected, to be honest. But when equipped with the knee pads, damn, UF PRO, you guys nailed it! It fits perfectly. Comfortable to wear. Robust materials where needed. Stretch where needed. I think it's the perfect compromise between civilian clothing and hard-working tactical kit. Best of both worlds. Would buy more, would recommend.
Steven
Verified Buyer
---
FAQ'S.
What's the difference between the P-40 Classic & All-Terrain Gen.2?
The most prominent differences between the Classic and the All-Terrain Gen.2 models are these:
CORDURA® reinforcements.
Unlike the P-40 Classic, the P-40 All-Terrain Gen.2 features CORDURA® reinforcements in places where damaging abrasion is usually a problem. These abrasion-prone locations include belt loops, pocket edges, and instep. Since the P-40 Classic Gen.2 pants come without additional reinforcements they are lighter and more breathable.
Pocket closure system.
Generally, the pocket closure system of the P-40 Classic is a Velcro strip, whereas that of the All-Terrain model is a zipper.
Number of pockets.
The All-Terrain model comes with more pockets—meaning you can carry additional items. For example, there is a small pocket on the thigh (suitable for stowing a knife) and the additional smaller strap-secured gear pocket on top of the side pocket.
Boot hooks.
Affixed to the hem at the bottom of each P-40 All-Terrain Gen.2 leg are boot hooks that connect the pants to your footwear. The hooks prevent the pants from riding up your leg as you walk, run, sit, or crouch.
Do UF PRO tactical pants come already water-repellent?
Yes. They're treated with a special coating that lasts a long time. The thing to keep in mind is that the coating wears off a little when you wash your pants. So, after many washings, your pants will be slightly less water-repellent than when they were new.
After washing, can I spray my UF PRO Tactical Pants with water-repellent coating?
Yes. But be aware that this could result in the fabric being less breathable.
How sturdy is the Schoeller stretch material used in the pants' seat?
It's extremely durable. In most cases, it'll even outlast NyCo ripstop material (which is well-known for taking a lot of punishment). Read more about it here.
What's the flap on the side pocket for?
It helps make sure that items you're carrying (like your phone or tactical tools) don't fall out when you bend down to pick things up off the ground. Our idea is we want the gear you stow in your pockets to stay put until you actually want them to come out.
Do knee pads work with UF PRO Tactical Pants?
Yes, you can easily upgrade your UF PRO® Tactical Pants with knee pads. In fact, we designed the entire P-40 range for use with our 3D Tactical Knee pads and Solid Pads. However, to use our Solid Pads you also need the 3D Tactical Knee Pads. There's no way to use the one without the other.
Do you offer only men's tactical pants or do you design pants also for women?
Sorry, no. But don't worry. You can wear our tactical pants whatever sex you are. It's all the same in terms of comfort, freedom of motion, long-lasting quality, and ease of care.
Are these pants flame-resistant?
Normally no. We do make a flame-resistant version, but only by special order to military units and police officers.
GET MORE INTEL.
Read our blog. Learn more about the materials we use. Learn why we design the features of our pants the way we do. Learn how to keep your tactical pants in top shape.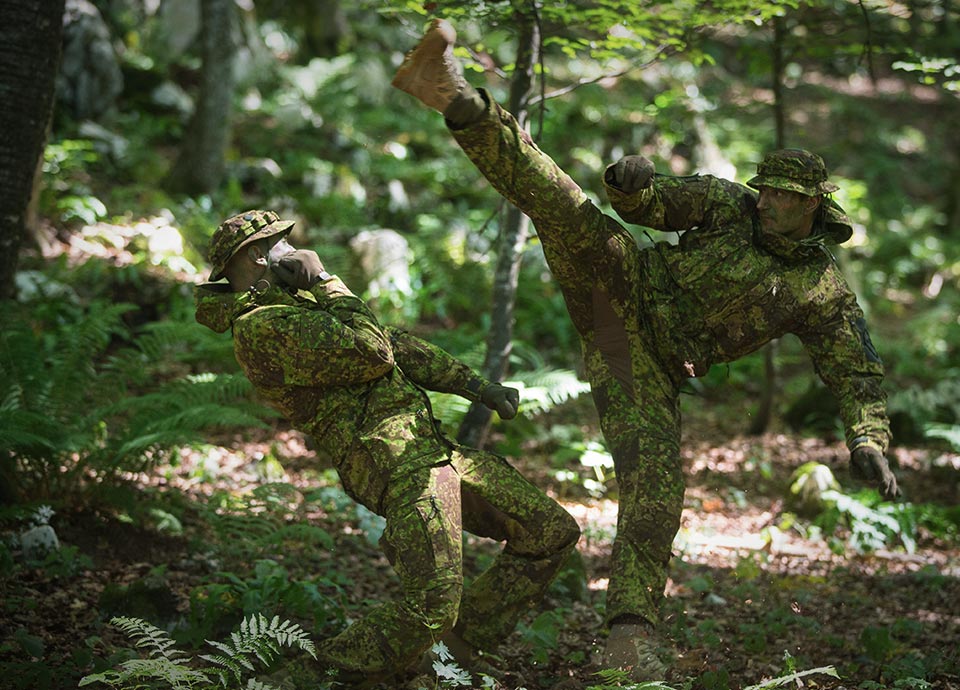 Anatomic cut - is it just fashion?
Clothes that fit look better than clothes that are baggy. But fashion isn't the top goal at UF PRO. The top goal is clothing that works as hard as you do. Clothing that's first for comfort and safety.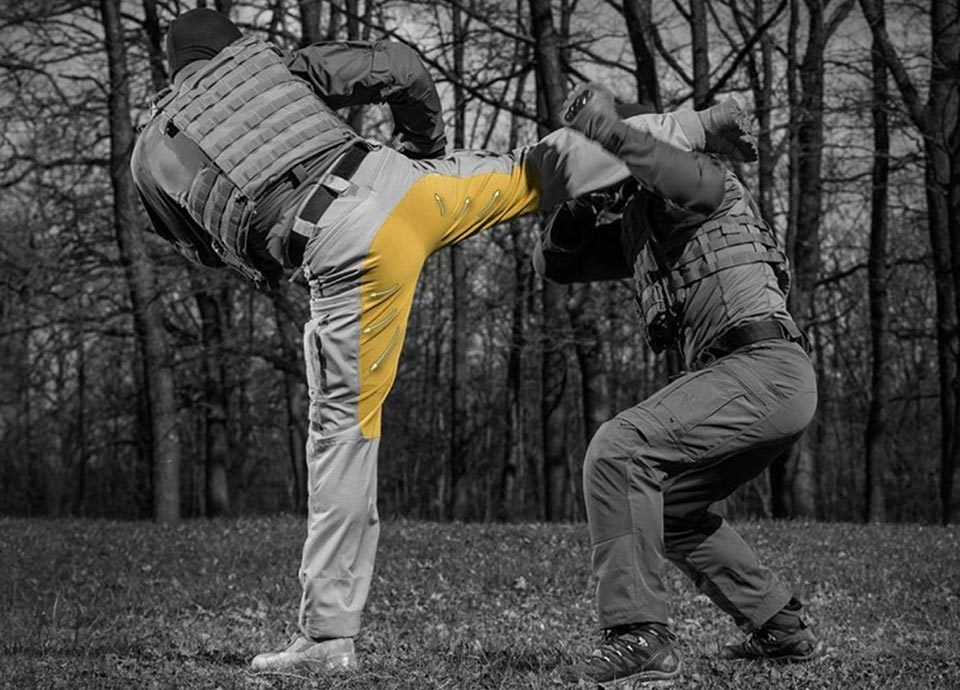 The breaking point of Schoeller Stretch material
"Is this stretch material going to always hold up?" We get asked that a lot by people looking to buy our P-40 and Striker combat pants when they see we've used schoeller®-dynamic stretch material. Read on to learn how we answer that question.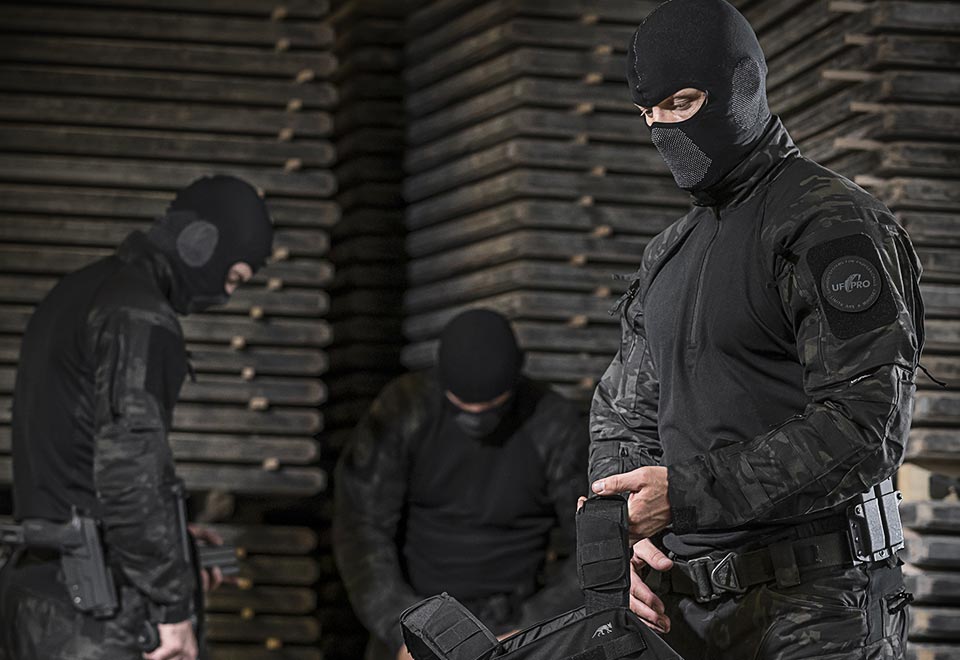 COMBAT SHIRTS
Gear up with combats shirts for weather of all kinds - hot to cold, wet to dry, calm to windy.