You're not in the market for a new pair of tactical pants every day. But when the time comes for you to go shopping, the question arises: "What should I look for in a pair of tactical pants?" If you're like most tactical operatives, what you'll be looking for is the right price and great performance.
What's in this blog post?
Introduction
Fortunately, there are guidelines to help you find the tactical pants most likely to give you both the right price and excellent performance. Tactical pants that deliver an outstanding "user experience" and the biggest "bang for the buck" are out there.
A word of caution, though. It's easy to lose track of the things you need to keep in mind as you try to apply the guidelines.
For example, the materials used. You've probably heard of the most common types of materials, such as ripstop, CORDURA, Teflon®, nylon, polyester, and cotton. But there are also different blends of polyester and cotton (67/33 or 50/50), which directly affect how the fabric behaves as you wear it and how it feels when it's in contact with your skin.
Then there's the overall design. You can have the highest-quality materials, but the pants will perform worse than a cheap pair if they suffer from a "bad cut" or if the right features aren't built into them.
On top of that, there's the matter of usage. Will you be using them in heavy rain and counting on them to keep you dry? Or do you plan to use them during your off-duty hours for a relaxing time out at the gun range?
Even more basic is the question of what actually makes tactical pants "tactical"? You can read more about that topic in our article here.
But the point is, as you can quickly see, it's quite easy to get lost in this topic the deeper you dig into it.
OK, so how does one choose the best pair of tactical pants?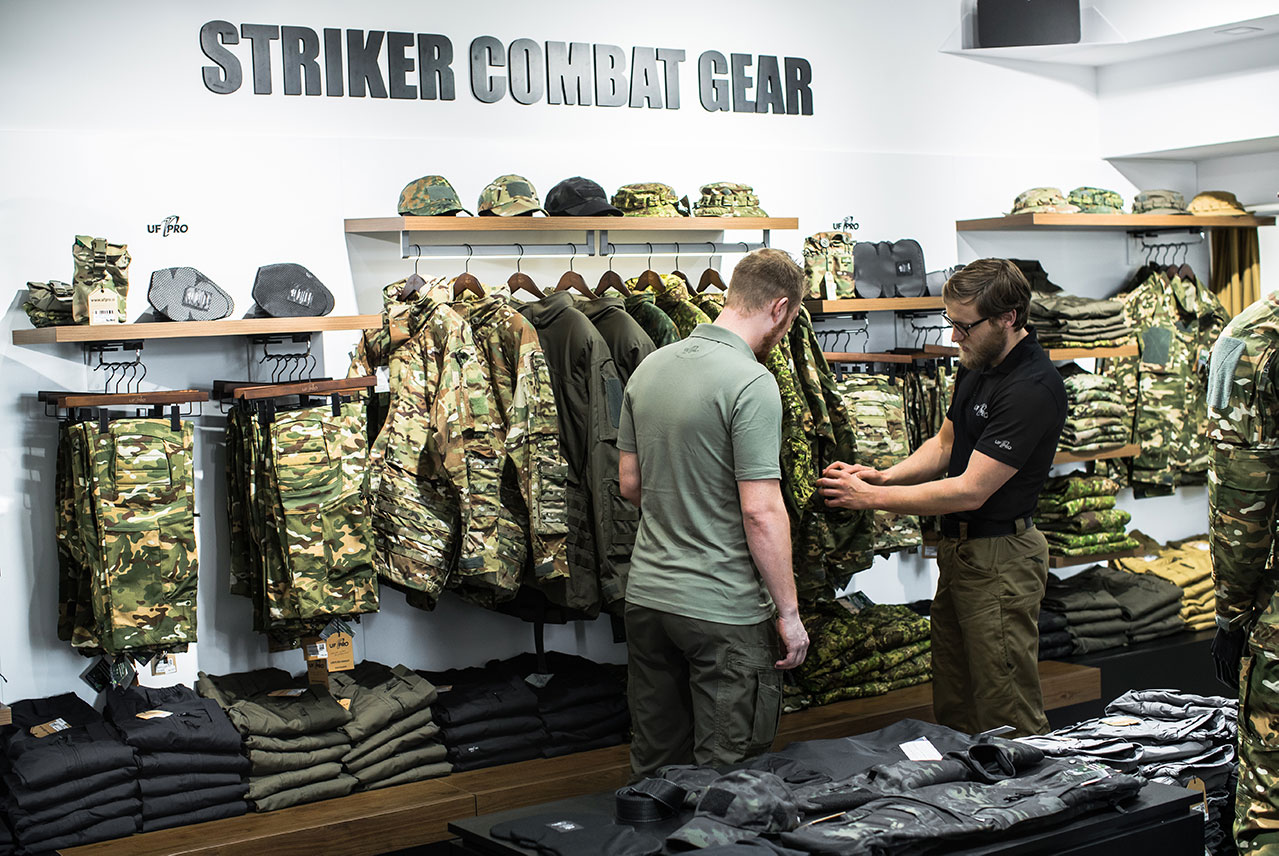 The buying checkboxes
The process of buying a pair of tactical pants boils down to five considerations. We've listed them here for you in the form of checkboxes. Any pair of tactical pants you're thinking about buying needs to tick each of these checkboxes (and, if those pants don't tick them all, you probably should keep shopping until you find a pair that does). Here are the five considerations:
Price

Quality

Functionality

Durability

Comfort
Let's take a look at each of these five considerations, one by one.
Price
Price is probably the most subjective consideration of these checkboxes, so we'll start with it.
When it comes to price, it's often the case that one person will find the amount acceptable while another will have a wildly different response to that exact same price tag.
The reality is that the price of a pair of tactical pants is usually determined by quality, functionality, durability, and comfort. When the latter increases, so does the overall price.
A thought we as consumers commonly have is that higher prices necessarily equal better products. But is that always the case?
According to a theory postulated by American inventor and futurist Raymond Kurzweil (a graduate of the Massachusetts Institute of Technology), products often start out as highly ineffective and often expensive but, over time, they tend to become more effective and thus gradually less expensive.
Computers are an example of this phenomenon. In 1972, computers were huge, boxy things that offered a fraction of the data processing and storage capabilities of today's bargain-priced laptops. In those days, you'd pay a whopping $95,000 (or slightly over a half-million in inflation-adjusted dollars) for one of those early models.
If you think about it, you can see how Kurzweil's theory usually directly applies to almost any type of product. The manufacturer's timeline begins with a high cost of entry at the start of production followed by lower costs once the output quantity increases and process optimization leaps forward.
Bottom line: Shop in a price range with which you're comfortable. Look for well-established brands within this price range.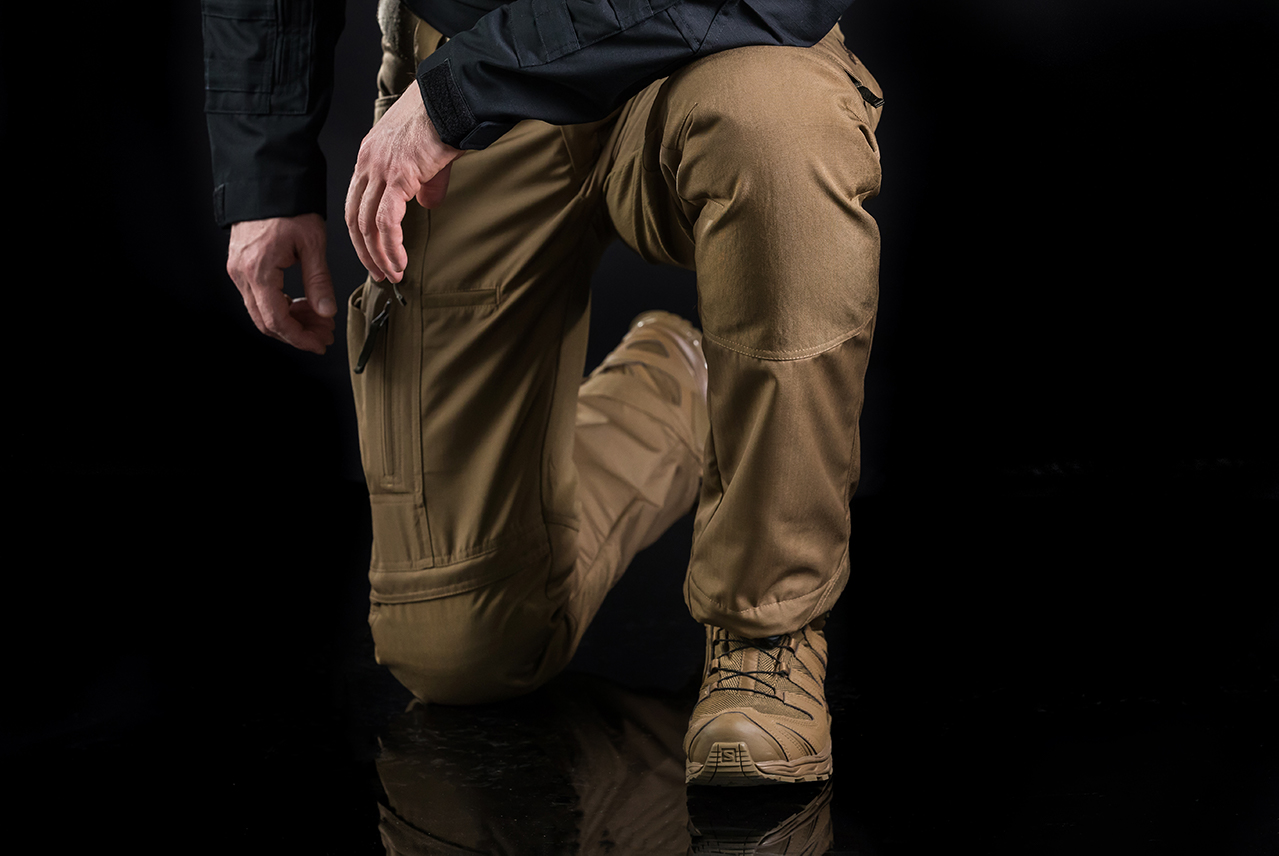 Quality
If price was the most subjective of the five considerations, then quality (believe it or not) has to be the most objective.
That's because the quality of the garment can be quantified using a variety of tests. Here are a few of them:
Elastic fabric/straps stretch test

Seam strength test

Colour shading inspection

Thread directionality check (the grain of the primary fabric)

Hydrostatic pressure method (for waterproof garments)
Unfortunately, you probably won't have the means to on your own conduct any of these tests. That being the case, we recommend you look for tactical pants made from or with recognizable brands of materials and best-in-class manufacturing technologies.
Here's a list of brands we use in our own garments. You can use this list as a reference point:

Schoeller®

CORDURA®

G-LOFT®

YKK®

COCONA®

WINDSTOPPER®

37.5®

EtaProof®

GORE-TEX®
The makers of these brands subject each to high-standard quality tests. We do the same, using tests of our own, to ensure you get the best performance.
Buying a widely recognized brand that has plenty of existing customers is a wise choice because it means you're probably getting the quality you pay for.
Bottom line: Look for recognizable, reputable materials brands and/or production technologies.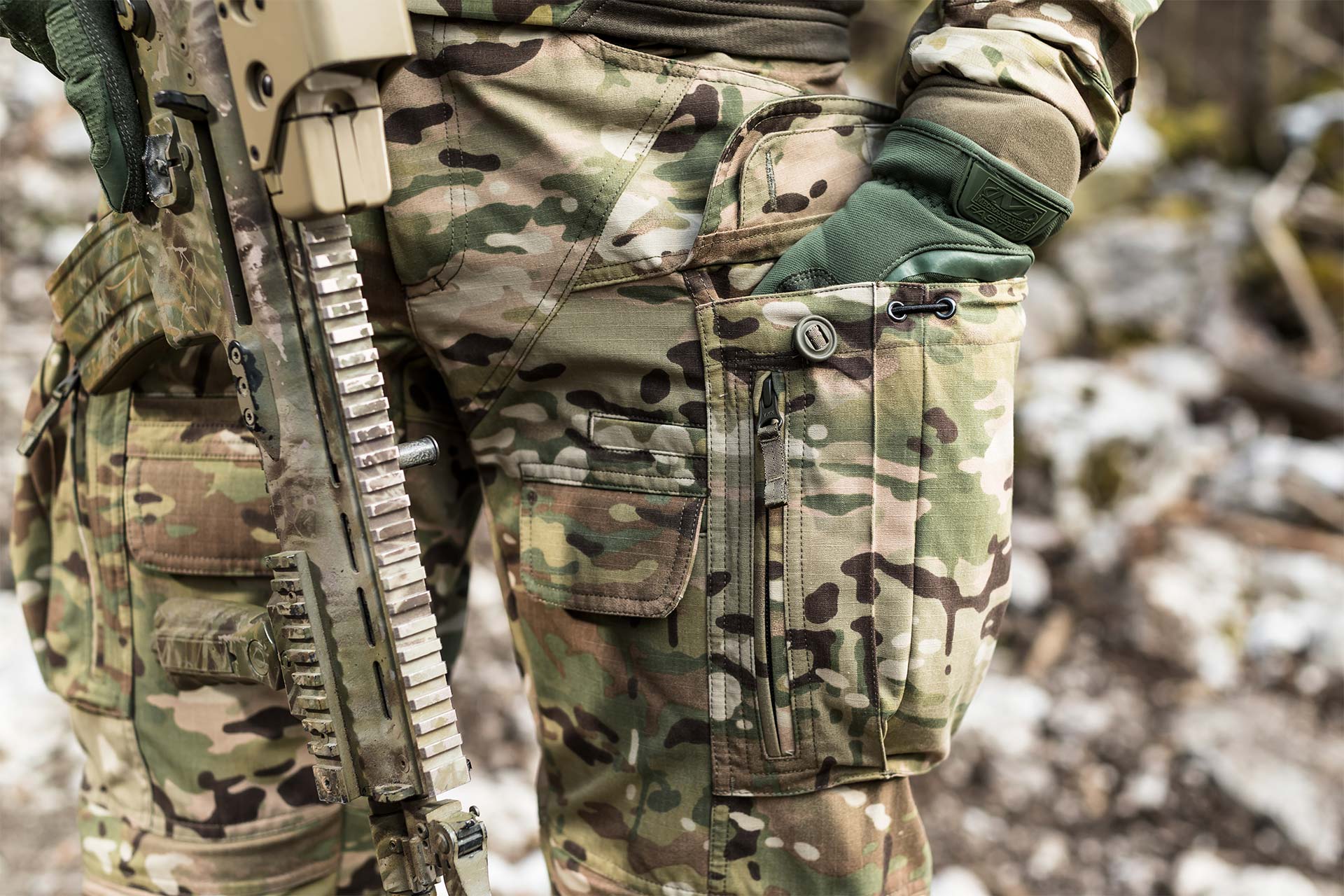 Functionality
The consideration you get to most straightforwardly decide on is this one—functionality.
Start by thinking about the usage to which you'll most likely put your purchase.
The biggest factors affecting usage are environment and temperatures. Ask yourself these three questions:
Do you plan to wear your tactical pants in extremely low temperatures?

Do you plan to wear your tactical pants during periods of high temperatures?

If yes, then you should be looking for lightweight, breathable, and fast-drying fabrics. Also, the pants should include features like ventilation zippers. Taken as a whole, these attributes will help you beat the heat.

Do you plan to wear your tactical pants during periods of heavy rain?

If yes, then look for waterproof laminates such as GORE-TEX and similar materials. Learn more about GORE-TEX laminates here.
After addressing those three questions, you next will want to set about finding the right combination of features for your particular situation. Some features are going to be must-haves given the scenarios in which you'll be operating and the expectations you'll have for your gear.
Here are the key features along with some questions to ask yourself:
Pocket configuration. How much gear are you going to need to carry in your pants pockets? Will you need special pockets for magazines, small knives, or chemlights (to mention but a few gear possibilities)?

Knee protection. Do you need to wear knee pads?

Closure systems. Which do you prefer—Velcro, buttons or zippers?

Belt loops. Will you be wearing a duty belt?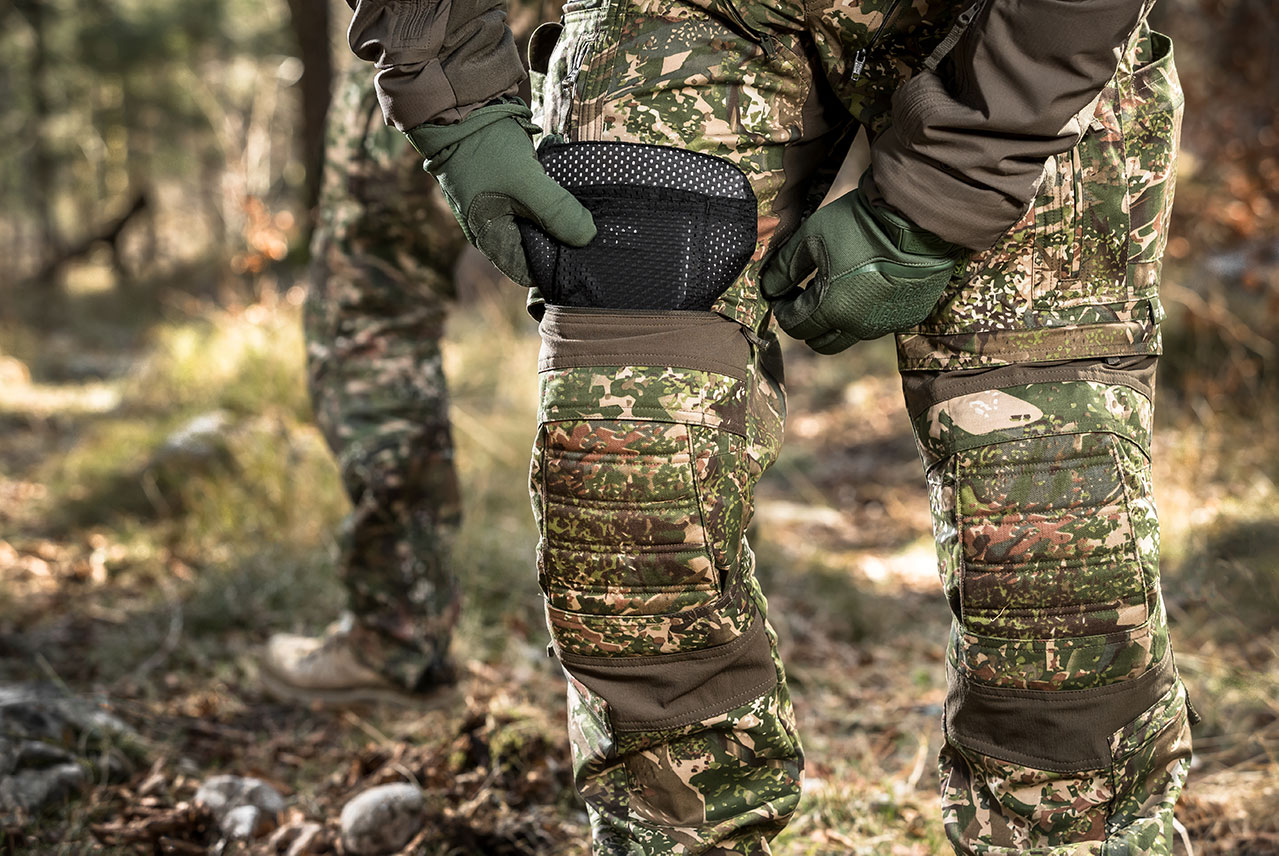 Durability
Durability is the fourth consideration in selecting a pair of tactical pants.
Each of the following items affects the durability of a garment, so don't overlook them:
Materials. Highly abrasion resistant CORDURA and ripstop materials can increase overall longevity by preventing ruinous damage.

Anatomic fit of the garment. This reduces the risk that your pants will suffer snags and become ripped.

Seam construction. Use of high-tech seam construction increases overall durability.
These 3 points can quickly be used to assess the durability of the pants.
Comfort
We said earlier that price is the most subjective consideration. Well, maybe not. It might be that the matter of comfort is actually the most subjective (or, at minimum, a close second) because it's tied to the wearer's individual experience and body type.
Consequently, we suggest you make your determination of comfort by trying on the pants you're evaluating (after first relying on the manufacturer's sizing guidelines to ensure the pants are properly matched to your waistline and leg length).
A factor to which you should pay attention is the weight of the pants. However, don't judge solely on the basis of weight. You can read more about the topic of weight vs. comfort here.
Which UF PRO Tactical Pants are best for me?
Below you'll find a comprehensive table we've made so you can see at a glance which UF PRO Tactical Pants checks all your boxes. (For obvious reasons, we didn't include in this table the considerations of quality, durability, and comfort when rating our own gear.)
This legend will help you understand the table's columns:

Price. The price relative to other pants in our UF PRO lineup.
Low temperature. These pants are suitable for cold weather or cold climates.
High temperature. These pants are suitable for hot weather or hot climates.
Waterproof. These pants are constructed of 100% waterproof laminates.
Features. These pants have specialised features; each * represents the number of special features.
For obvious reasons we left out the quality, durability & comfort aspects when rating our own gear.
| | | | | | |
| --- | --- | --- | --- | --- | --- |
| Tactical Pants | Price | Low Temperatures | High temperatures | Waterproof | Features |
| | *** | Yes* | Yes | No | *** |
| | ** | Yes* | Yes | No | ** |
| | ** | Yes* | Yes | No | ** |
| | *** | Yes* | Yes | No | *** |
| | * | No | Yes | No | ** |
| | **** | Yes, as overpants | Yes | Yes | *** |
| | **** | Yes, as overpants | Yes | Yes | *** |
| | **** | Yes. Extremely low temperatures. | No | No | *** |
*The P-40 Lineup can be converted to thermal insulation pants with the Windstopper lining.