BROWSE UF PRO TACTICAL KNEE PADS
The Uf Pro Knee Protection System.
Many knee protectors provide very good levels of protection but are uncomfortable to wear all the time, so some opt-out of wearing them during long marches or missions. We have designed our tactical knee pads as a part of a modular protection system, that can holster the knee pads and solid pads at an optimal position at all times. The 3D Tactical Knee Pads provide the protection level you choose - an IMPACT & CUSHION version, which can be easily upgraded with the Solid Knee Pads to ensure you stay protected against sharp objects.
Reliable Protection
Only best-in-class protection materials make it into our knee protection system. We use special shock absorbing, memory-foam and penetration resistant materials that make sure your knees stay safe no matter what.
LIGHTWEIGHT
Shaving off the excessive weight was a high priority task when designing the tactical knee pads. The specially designed bi-curve of the 3D Tactical Knee Pads provided a nice anatomical fit, but it also allowed us to create a thicker middle area, where the pads actually have contact with the surfaces and protect your knees the most. We brought the weight down to 80g/knee pad by lowering the thickness on the edges and increasing it where it matters most.
SUPERB COMFORT
Wear comfort is a crucial key point in designing the optimal protective gear. The multidimensional shape of the UF PRO® tactical knee pads allows them to conform to the anatomical shape of your knees and doesn't require any additional cords to keep them in place. They are off your mind when you wear them, but on standby when you need them to give you the protection you need.
CHOOSE YOUR LEVEL OF PROTECTION:
The new 3D Knee Pads are absolutely top! Not to compare with the old pads, but the update to the new 3D pads is definitely worth it!
Volker
Verified Buyer
---
My UF PRO Striker XT pants came with knee protection built in. But I was looking for something more for those moments when knee protection counts most. I tried wearing motocross knee protectors under my tactical pants. Didn't work. So I bought a set of UF PRO Tactical Knee Pads. Man, am I glad I did. They totally saved my knees when I breached a fortified door and things didn't work out quite as expected. Another time, I fell and landed on my knees from a height of about three meters. To everybody's surprise, I sustained no physical injuries. Can't say the same for my ego, though. But the point is I was able to stand back up and carry on as expected thanks to my UF PRO Tactical Knee Pads. I really like what UF PRO has produced here. This gear has kept me out of harm's way over and over. Thank you, UF PRO. You've designed a winner I can depend on even in the darkest hours.
Herman
Verified Buyer
---
GET MORE INTEL.
Watch the video and learn more about the design choices of our 3D Tactical knee Pads with the head of product development, Armin.
FAQ's.
What is the difference between the IMPACT and CUSHION version?
IMPACT pads are made of a special energy-absorbing foam that stiffens upon impact and protects your knees when you have to quickly kneel or duck.
CUSHION pads offer extra comfort for your knees if you need to stay on them for a long time.
What materials do you use for the 3D Tactical Knee Pads?
We use high-quality polyurethane (PU) materials offering exceptional knee-protection properties.
Do I need to strap in the knee pads when using UF PRO Pants?
No. They need no straps. They also don't require periodic readjusting. The pads are designed to work seamlessly with the multidimensional shape and anatomic fit of the pants. Together, they keep the pads in proper position.
Can I use the Solid Pads with every pair of UF PRO Combat & Tactical Pants?
Yes. Our 3D Tactical Knee Pads system features a smaller front pocket made expressly to receive Solid Pads. This allows you to insert Solid Pads over IMPACT or CUSHION pads worn with any pair of P-40 Tactical Pants or Striker Combat Pants.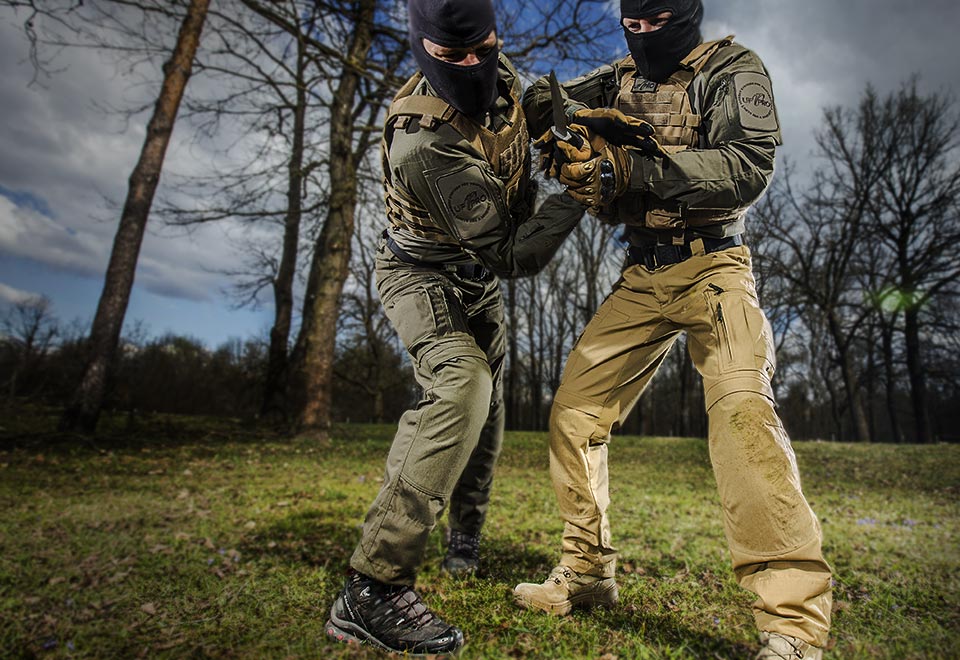 TACTICAL PANTS
Our P-40 Tactical Pants offer best in class wear-comfort and just the right features, be it for the shooting range or the urban environment.