Browse all UF PRO gear in MultiCam Tropic
FAQs.
MultiCam Tropic is a camouflage pattern developed as a variation of MultiCam for use in tropical environments.
Is MultiCam Tropic a digital pattern?
Yes. MultiCam Tropic—a variation of the original MultiCam pattern—is made with the help of computer digitisation.
What colours make up MultiCam Tropic?
MultiCam Tropic is a predominantly green colour scheme with elements of olive, bright green, green, dark brown, dark green, and tan.

Image source: color-hex.com
What color plate carrier with MultiCam Tropic?
Gear in either Ranger Green or the base version of MultiCam will work with your BDU in MultiCam Tropic. MultiCam overlaps and complements MultiCam Tropic, making both perform better if used together.
When was MultiCam Tropic introduced?
MultiCam Tropic was introduced in 2013 alongside MultiCam Arid, MultiCam Alpine, and MultiCam Black.
Why was MultiCam Tropic developed?
MultiCam Tropic was invented to complement base MultiCam's lack of effectiveness in woodland and tropical environments. You can read more about the pattern's effectiveness here.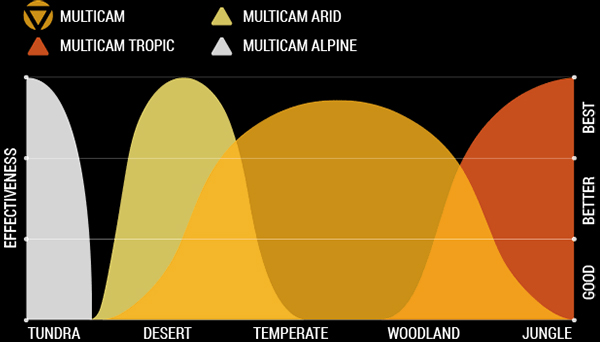 Image source: multicampattern.com
As shown in the image above, MultiCam Tropic extends regular MultiCam's effectiveness and works optimally in tropic environments.
Who uses MultiCam Tropic?
Currently, no units are listed as having made MultiCam Tropic their official camouflage pattern. However, the U.S. Special Forces use it in deployments to tropical regions.
Browse Other Camouflage Patterns