P-40 All-Terrain Gen.2 Tactical Pants
P-40 All-Terrain Gen.2 Tactical Pants
Limitless movability. Enhanced anatomic fit. Spacious pocket configuration. Reliable knee protection. These are the next-generation tactical pants.
» More info
Your gear all securely in place—even while you're on the move.
These pants come standard with a spacious 9-pocket configuration that lets you stow an enormous number of small items and pieces of gear. On top of that, you can expect the stuff you stash below your belt to stay put as you run or jump.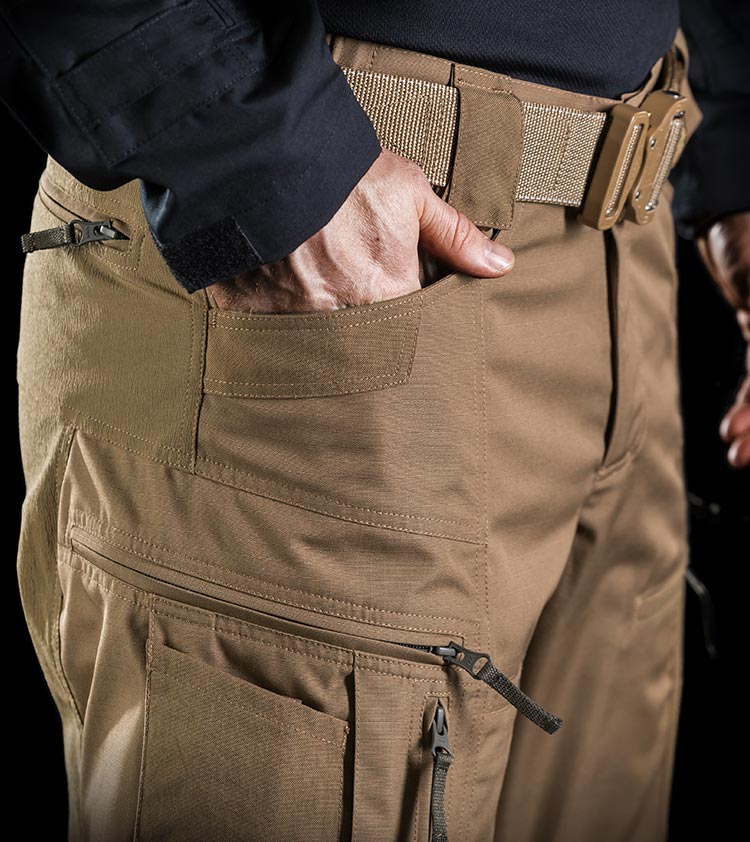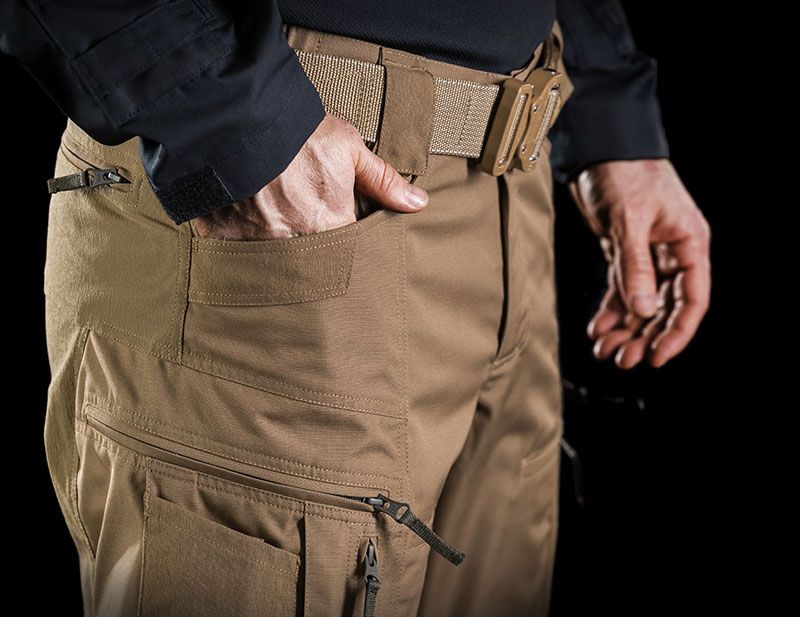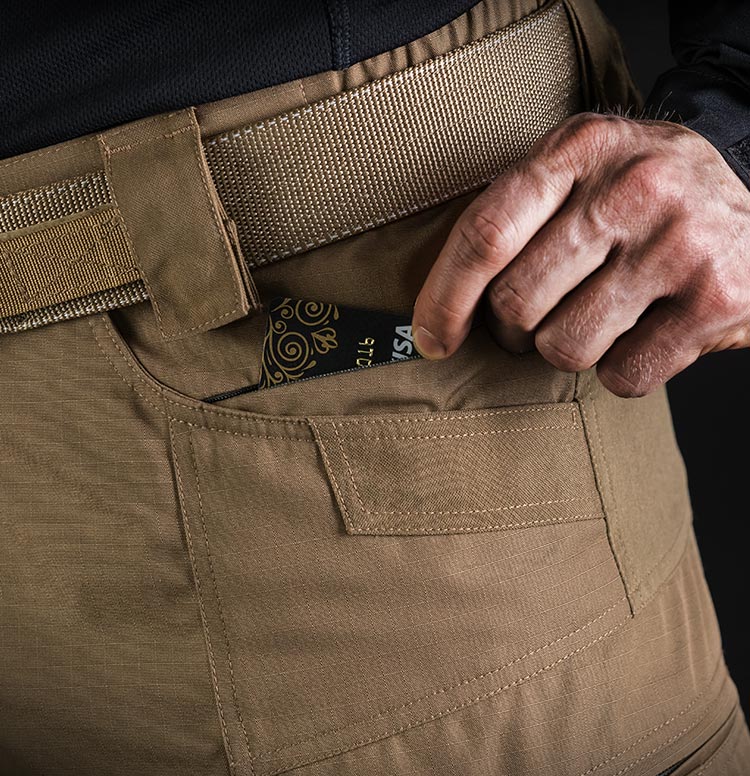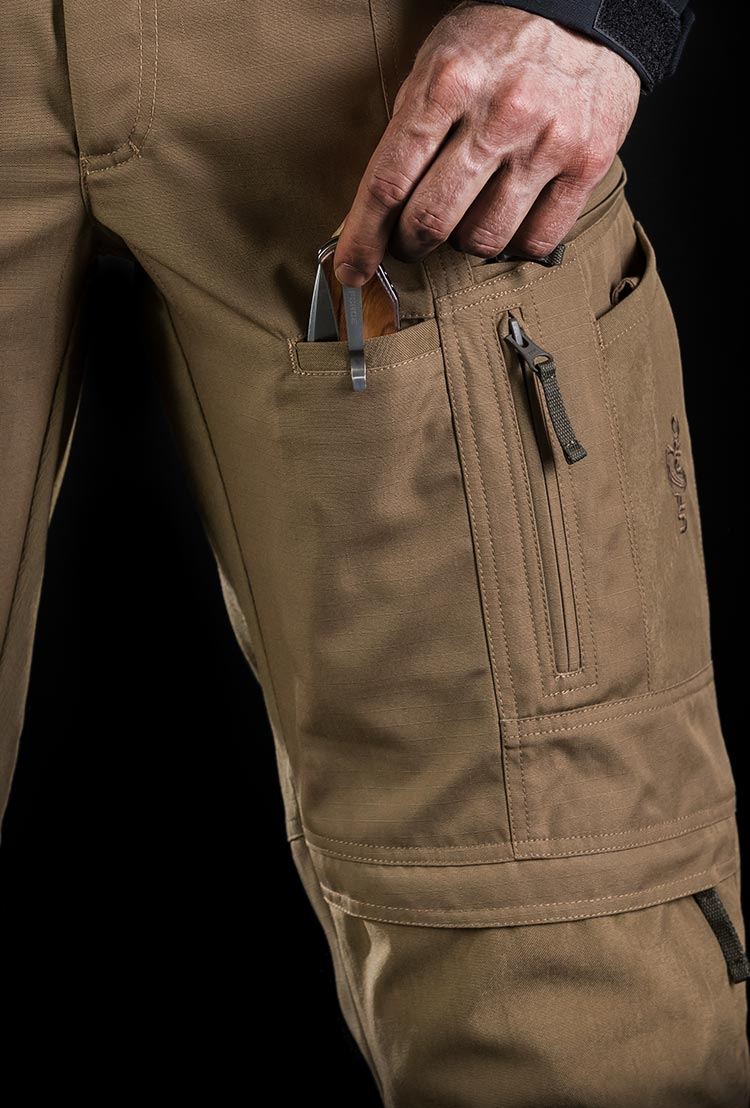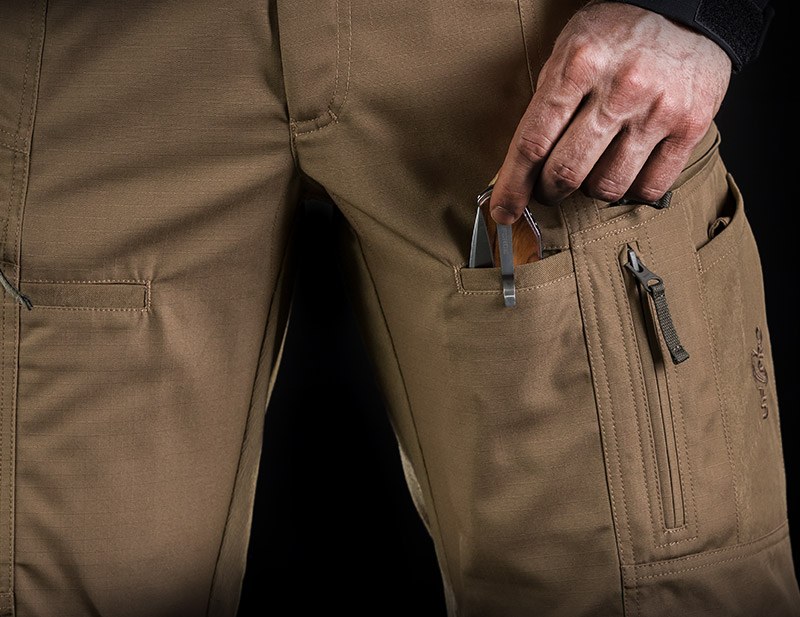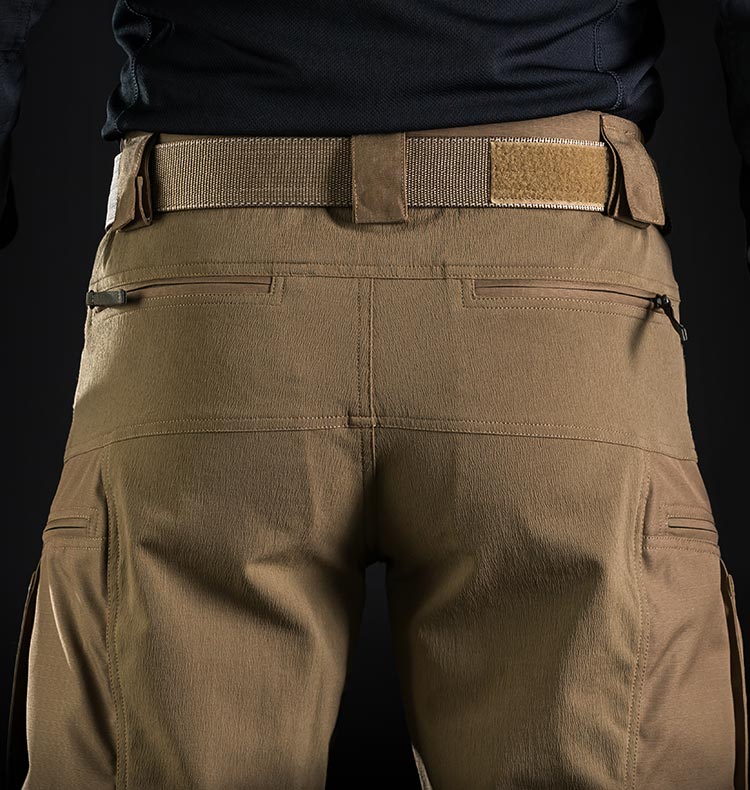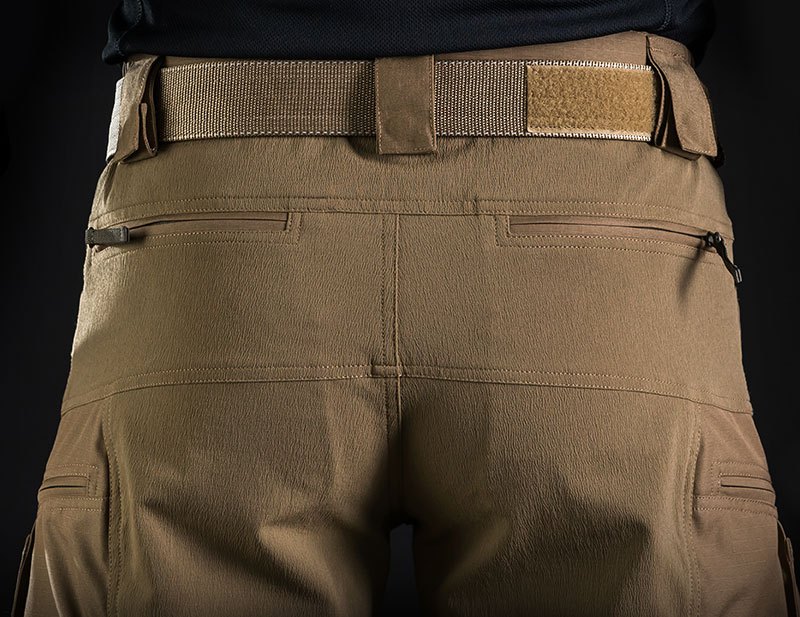 Keep your gear connected.
Slide your belt through the pants' CORDURA®-reinforced double loops (this will help prevent your gear-laden belt from sagging). Then, use the hook at the bottom of each leg to connect the pants to your boots (so the fabric won't ride up and expose your calves).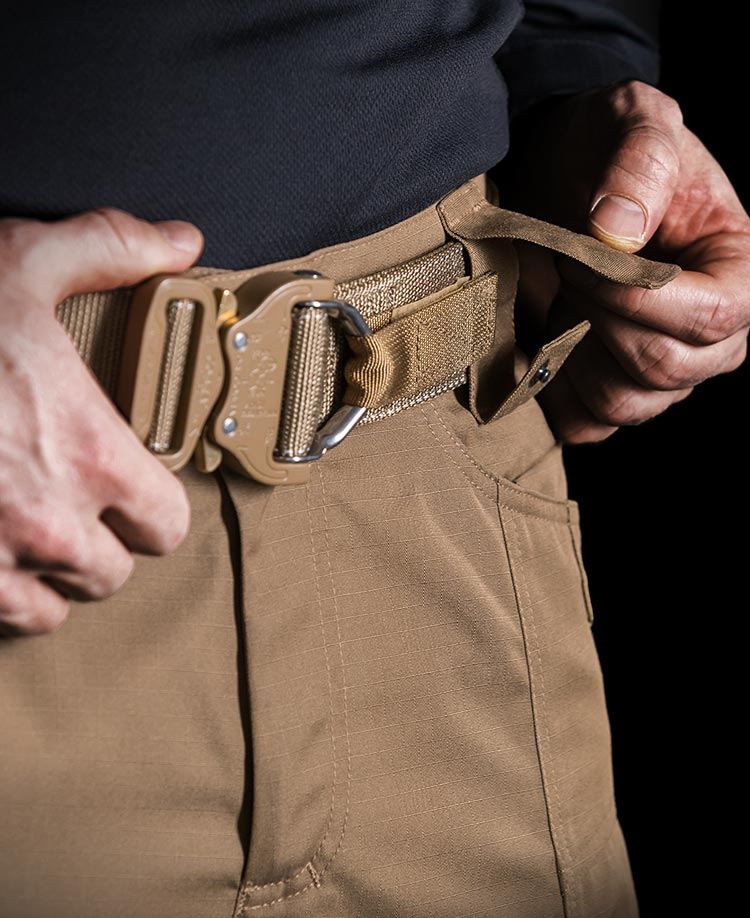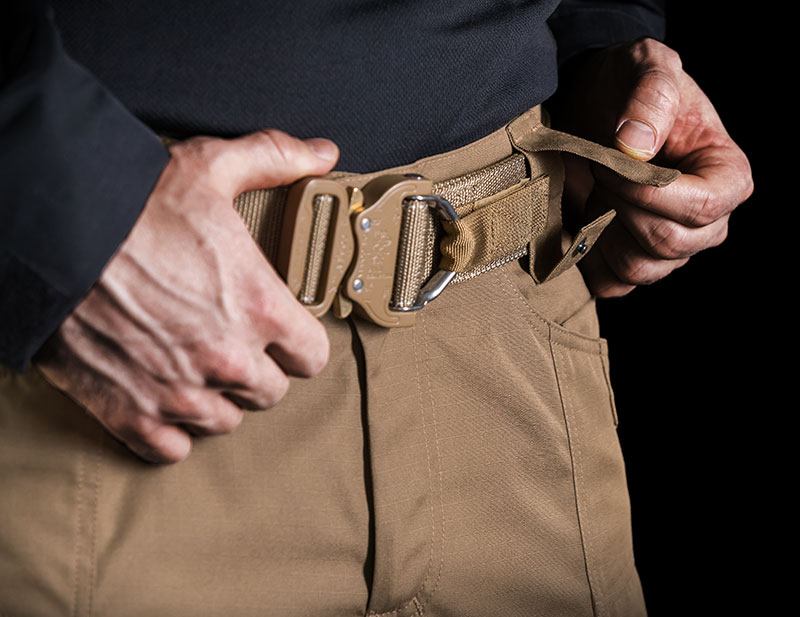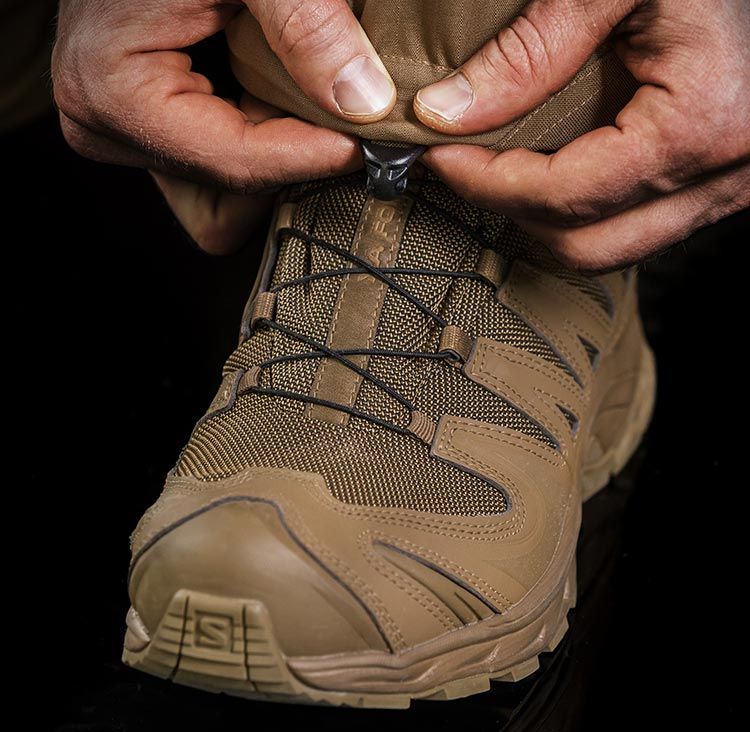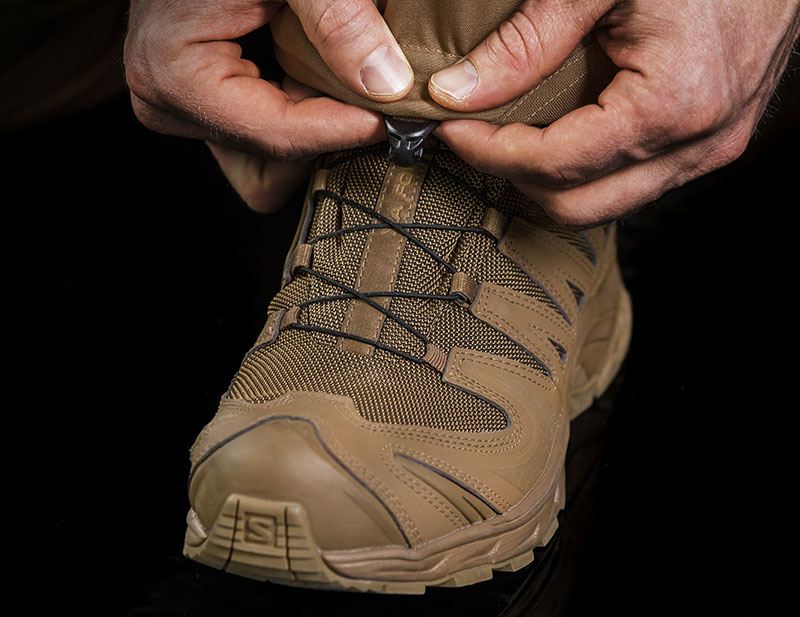 FAQ's.
For what temperatures are the P-40 All-Terrain suitable for?
We designed the go-to P-40s for temperatures ranging from high to low and for pretty much any environment in which you might find yourself deployed. 
The face fabric is a very breathable ripstop PolyCo material. The pockets that receive insertable knee pads pull double-duty as vents to let air enter and circulate so you can stay cool on hot days or nights. What's more, the design of the pockets is such that those knee pads will stay in place even while configured to open-vent mode.
In cold temperatures, just zip in a WINDSTOPPER liner. Easy to do, the liner then blocks chill winds and provides excellent thermal insulation.
Put it all together and you can see why we say our P-40 All-Terrain Gen.2 Tactical Pants are truly an all-seasons pair.
How durable is the stretch material in the seat of the pants?
Our stretch panel is made of schoeller®-dynamic, an extremely durable fabric. Based on our own testing and real-life experiences, we find it to be one of the best stretch textiles the market offers. And, as a bonus, this stretch material retains its elasticity for a very long time. Click here to read an article for more intel on schoeller®-dynamic and a rundown of how it works with our pants.
Which knee pads can I use with the P-40 All-Terrain Gen.2?
Our 3D Tactical Knee Pads work great with these pants. A benefit of opting for the 3D Tactical Knee Pads is you're able to insert at the front of them our highly protective Solid Pads to maximize your knee safety and comfort.
What's the difference between P-40 All-Terrain and P-40 All-Terrain Gen.2?
The Gen.2s build on the foundation laid by the previous generation in terms of durability, functionality, and comfort.
Improved durability
The second-generation design of these pants streamlines the seams by employing an overlapping technique that reduces the number of critical points where it might be possible for the pants to snag on pointy objects (such as tree branches and metal barbs). This design strategy effectively minimizes the risk of the pants tearing or sustaining other types of damage.
Additionally, we've reinforced the pockets and other highly friction-prone elements in order to help significantly extend the life of the pants.
Extra functionality
We've incorporated hooks with the second generation to let you easily secure your pants to your boots so that the trousers don't ride up along your leg when you're walking, running, or even just sitting.
We've also improved storage capacity. The gear you stow in your side pocket stays more securely in place now because of the new cut and the added inside elastic straps. So, when you run, kneel, or perform other high-mobility moves in these second-generation tactical pants, you don't have to worry about your gear spilling out.
Enhanced knee section
The modified cut of the pants gives them superb anatomic fit and positions the knee pads in just the right spot to protect you without being obtrusive (in fact, you're likely to forget you've even got the pads on, so unnoticeable and comfortable are they).
Still not sure if uf pro is right for you?
Check out what our customers are saying about their experience.