There nowadays are so many tactical materials available on the market that it can be a challenge to keep track of them all. At UF PRO, we use a variety of tactical materials. In this post we list the industry's most widely used tactical materials and provide a short description of each.
Overview of Tactical Materials
Go directly to the tactical material that most interests you—just click on its name.
air/pac®
| | |
| --- | --- |
| air/pac® is a padded insert. We place it mainly inside the shoulders of our garments. | |
The insert provides an 8mm-thick barrier. It facilitates the distribution of weight from a backpack or plate carrier slung over your shoulders. It also helps prevent the "thermal bridge phenomenon" by keeping the garment's cold exterior fabric from making direct contact with your skin.
Used in:
Canvas
Canvas is a plain-woven fabric. It's typically constructed from cotton or synthetic fibres. Excellent weather-protection properties and extreme rugged durability make canvas very versatile.
For more than a century, canvas was a favorite for the manufacture of backpacks. However, canvas use has in modern times given way to more advanced materials, such as CORDURA.
Used in:

Military tarps (worldwide, tarps are the most tactical use of canvas)
Sails
Tents
Marquees
Backpacks
Shelters
Cotton
Cotton is one of the most basic of natural fibres. It comes from cotton plants (the fibre surrounds the plants' seeds).

Image source: Wikipedia.com
Uses for cotton vary widely, but it is considered a staple of the clothing industry because it is very comfortable, absorbs water, and is air/moisture permeable. Cotton also resists static electricity buildup.
Used in:

Tactical clothing
Tactical gear
Outdoor industry
CORDURA (Cordura Nylon)
CORDURA refers to a range of fabrics used to build abrasion resistance into many different types of tactical field equipment.

Image source: cordura.com
Initially, CORDURA was made of rayon, which is basically regenerated cellulose fiber. Today, it's made primarily of nylon and can be blended with other materials (cotton, for example).
You can read more about CORDURA in this blog post.
Commonly used in:

Plate carriers

Backpacks

Other Tactical Gear
Ceramic dots
An uprising coating technique that entails firmly bonding an overlayer of fine ceramic particles to a textile material. The result is a substantial increase in the fabric's abrasion resistance.

Image source: Schoeller Textiles
Using ceramic dots instead of alternative abrasion-resistant materials has the advantage of leaving intact and unaffected the base fabric's other important characteristics (such as breathability, moisture transport, and elasticity).
Used in:

Tactical clothing
Cycling
Denier
Denier is a unit of textile measurement. It represents a mass of fibres 9,000 meters long. The technical formulation is: 1 denier = 1g/9000m. Essentially, a single denier weighs approximately the same as a single strand of silk.
When you see a label that says "500D CORDURA", that means the fabric's base fibre is 500 times heavier than silk.

The higher the denier, the more material there is in the composition of the fibre (which usually propagates in better abrasion resistance because it will take longer for the strand to break).
Down (Filling)
Down is bird feathers—specifically, the layer of fine, small feathers beneath the bird's tough outer feathers.

Image source: downandfeathercouncil.com
For cold-weather applications, down is hard to beat owing to its exceptional thermal-insulation properties. Unfortunately, unless it's chemically treated, natural down loses it's ability to insulate if it becomes wet (which can easily happen).
Fill Power
Down's quality is rated according to its fill power; that is, the volume displaced by a predetermined mass of feathers. Down with higher fill power insulates better than down of the same weight but with lower fill power.
Used in:

Outdoor clothing

Outdoor equipment (like sleeping bags)
EtaProof Fabrics
Dense, windproof and water-resistant fabrics made of cotton and boasting exceptional breathability are commonly referred to as EtaProof fabrics.

Image source: Wikipedia.com
These employ a highly technical weaving process that exposes the fibres to water vapor, causing them to swell and seal the fabric. This makes the fabric windproof and gives it water-resistance, durability, and low-temperature suitability.
Following application of a durable water-repellency (DWR) coating, the fabric can also provide protection against rain.
Used in:
FR Clothing
FR stands for "flame resistant". Clothing designated FR can provide some but not complete protection against flames.
FR clothing comes in two types. One is flame-resistant. The other is flame-retardant.
Flame-resistant clothing is made from fibres that don't easily ignite when exposed to fire. Moreover, the clothing's flame-resistant quality is permanent despite repeated washing and prolonged wear. Nomex fabric is a well-known example of this.

Flame-retardant clothing is made from materials that self-extinguish in the event they ignite. Clothing in this category is also known as FRT, which stands for "flame-retardant treated".
Read more about FR clothing here.
Used in:

Tactical Clothing

Protective clothing

Workwear
GORE-TEX
GORE-TEX is a name often used for clothing laminated with a GORE-TEX membrane. The laminates are 100-percent waterproof yet are among the most breathable (moisture wicking) on the market.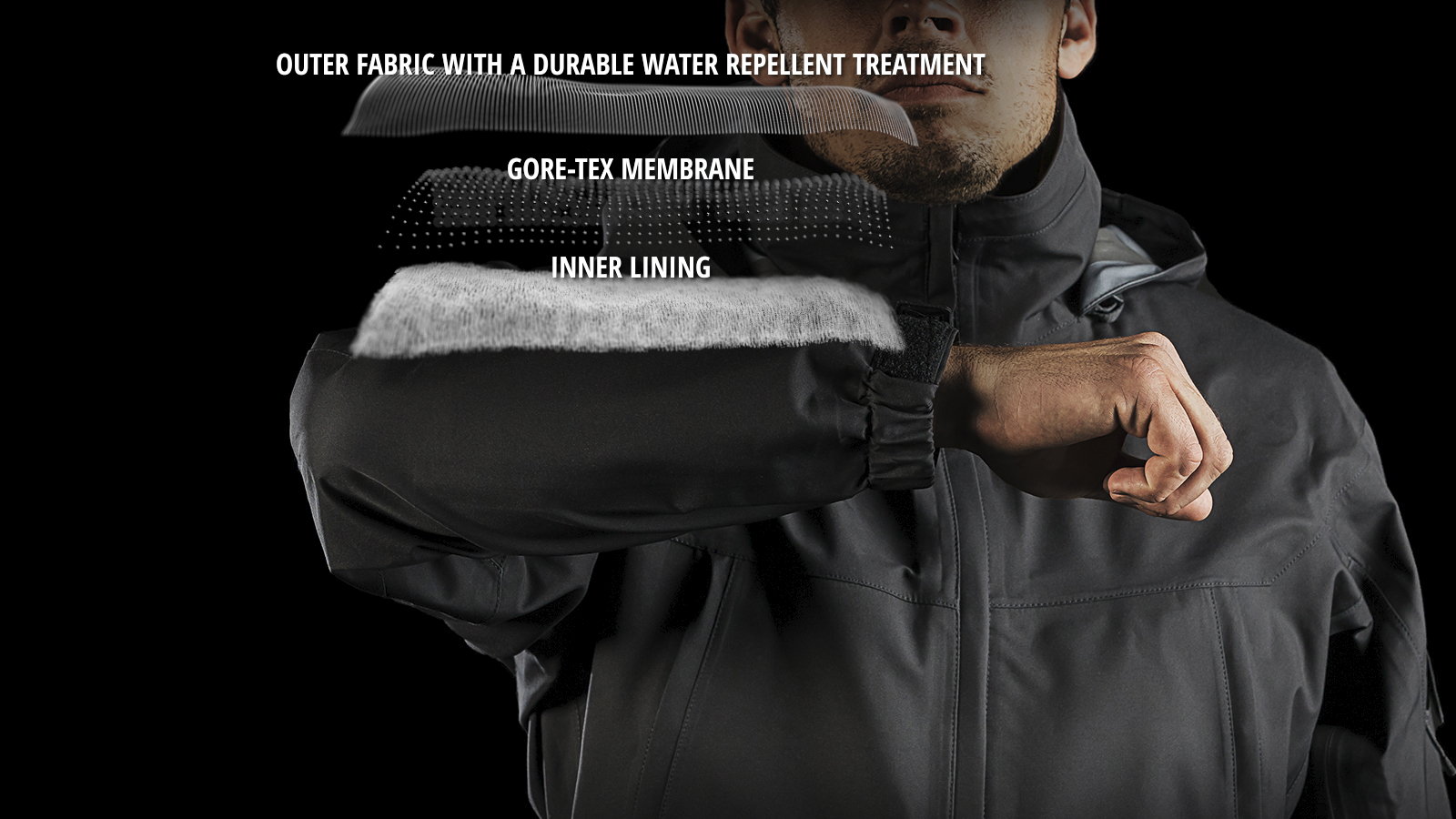 The membrane has micro-pores that work to create a waterproof layer. These micro-pores are 20,000 times smaller than a water droplet—that means water from the outside won't be able to penetrate.
However, the micro-pores are permeable when it comes to water vapour because they are 700 times larger than water vapour molecules. As a result, when you sweat (which is in part water vapour), that moisture can pass from the inside to the outside.
Read more about GORE-TEX in these articles:
Used in:

Outdoor clothing
Medical implants
Filter media
Insulation
G-Loft
G-Loft is an extremely lightweight synthetic thermal-insulation material.

Image source: carinthia.eu
It works on the same principle as down feathers. G-Loft's base bicomponent fibre is hollow and shaped like a spring. This composition endows the material with excellent thermal-insulation properties as well as enabling it to regain its original shape after being compressed.
Read more about thermal insulation here.
Used in:
Nylon
Nylon is a synthetic polymer material made from polyamides. It is notable for its high strength-to-weight ratio. Nylon does not absorb water (an important consideration for tactical clothing and gear).
Nylon is typically used in blends such as NyCo (nylon-cotton) in order to take advantage of nylon's durability and cotton's desirable performance characteristics.
Used in:

Tactical gear

Tactical clothing

Outdoor clothing
No-Melt/No-Drip material
No-melt/no-drip material is any fabric containing sufficient natural fibres to prevent it from melting or dripping when exposed to a source of high heat.
Read more about No-Melt/No-Drip materials here.
Lycra
Also known as spandex (elastane), Lycra® is a material characterised by exceptionally good elasticity and is stronger and more durable than rubber. The name Lycra® is trademarked by a division of DuPont Textiles.
Used in:

Compression garments
Undergarments
Lyocell
Lyocell is a form of rayon and is used in textiles formed from cellulose fibres. It can absorb 20 percent of its weight in moisture, and is superior to cotton in terms of moisture wicking.
Image source: Synthetic Textile Fibres
Compared to cotton, Lyocell also feels much more breathable. However, it is also more expensive to produce than cotton.
Used in:

Tactical clothing
Outdoor clothing
NyCo
This is a material made from a blend of nylon and cotton. From the nylon, NyCo derives outstanding abrasion resistance and strength. From the cotton, it gains breathability and moisture absorptivity.
Owing to its excellent overall properties, NyCo is one of the most-recognised fabrics for applications in the tactical space.
Used in:

Tactical clothing
Tactical gear
NyCo Extreme
One of the latest innovations in the tactical materials space, this fabric is significantly lighter than regular NyCo fabrics and offers excellent durability and abrasion resistance.
Indeed, NyCo Extreme was developed to be extremely lightweight yet exceptionally rugged.
Used in:

Tactical clothing
CORDURA fabrics
Merino wool
This natural fibre comes from Merino sheep, a breed that originated in Spain. The wool of Merino sheep is remarkably soft, which makes it ideal for wear directly against human skin. It's also a highly efficient manager of moisture and regulator of body temperature.
Used in:

Undergarments
Outdoor clothing
Tactical clothing
Ripstop
Ripstop is a woven fabric made using a special reinforcing technique. Specifically, thicker yarns are woven in a cross pattern at regular intervals.

Image source: Wikipedia.com
Ripstop offers two major advantages: high strength-to-weight ratio and the ability to stop small tears from spreading and becoming large ruinous tears.
Used in:

Tactical Jackets
Tactical Pants
Combat Shirts
Polyamide
Polyamides offer extraordinary strength and durability, which makes them suitable for protective gear. Familiar examples of polyamides are Kevlar and Nomex from DuPont.
Used in:

Protective equipment
Workwear
Tactical gear
PolyCotton (PolyCo)
PolyCotton is a fabric produced by combining polyester and cotton. This fabric earns high marks for offering the "best of both worlds"—durability, breathability, and economy.
Used in:

Tactical clothing
Outdoor clothing
Fashion
Medicine
Polyester
Polyester is derived from a polymer that is used in producing a variety of yarns and fabrics. Polyester is hydrophobic (meaning, it repels water). Compared to cotton, polyester is highly elastic and quite strong (so it enhances the durability of the materials to which it is added). It also costs relatively little to manufacture—thus, it helps reduce the overall cost of producing a garment.
Used in:

Tactical clothing
Outdoor clothing
Fashion
PrimaLoft
Widely known as a manmade down, this thermal-insulation material is derived from a patented synthetic microfibre. However, unlike natural down, PrimaLoft performs even when wet.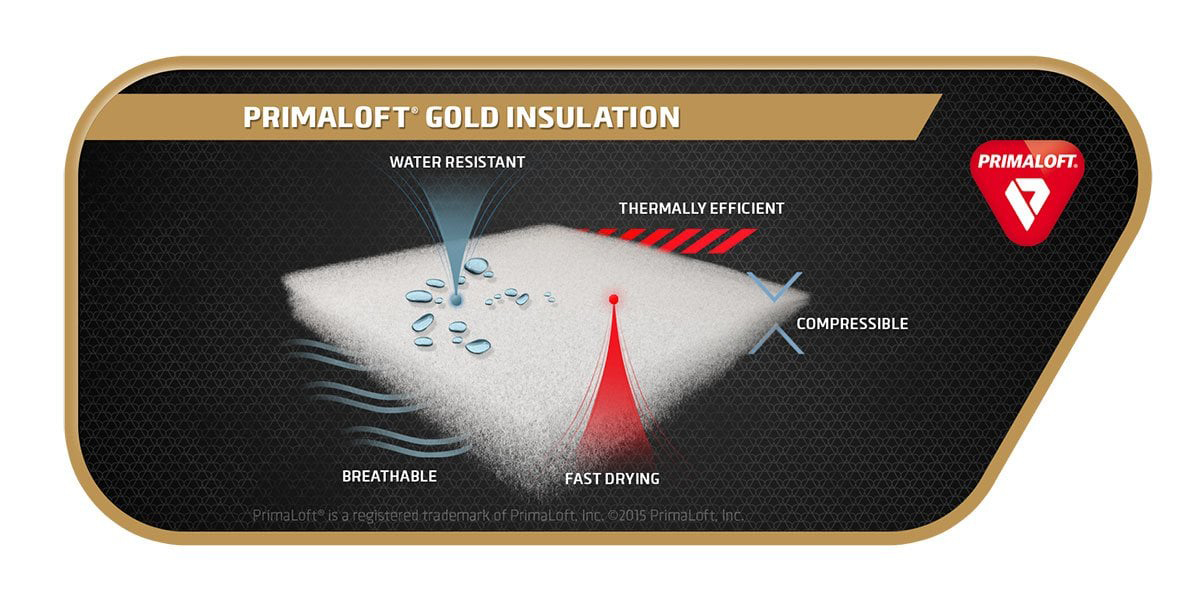 Image source: Primaloft.com
Used as thermal insulation filling in:

Tactical jackets
Tactical pants
Outdoor gear
Schoeller®-dynamic (stretch material)
schoeller®-dynamic is a range of comfortable, all-round functional fabrics with exceptional stretchiness. Characterised by durability, comfort, and freedom of movement, schoeller®-dynamic is a preferred choice for technical apparel.
Basic properties

Permanent high-elasticity
Water-repellency
Air permeability
Durability
Comfort
Image source: Schoeller Textiles
Used in:

Tactical Pants

Combat Pants

Outdoor fabrics

Workwear
VELCRO®
The generic, non-trademarked name for VELCRO® is hook-and-loop fastener material. It dates back to 1941—the early years of World War II. Since that time, VELCRO® has gone on to become the industry standard for tactical clothing closure systems.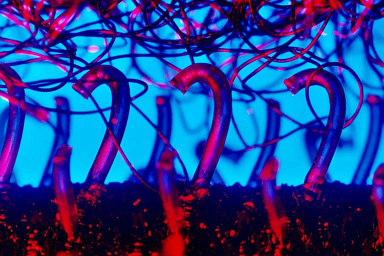 Hook-and-loop fastener material as seen with a microscope.
Image source: Wikipedia.com
Used in:

Tactical clothing
Tactical gear
Outdoor clothing
Outdoor gear
Woven fabrics
Woven fabrics are those made from two or more sets of yarn interlaced with one another.

Image source: Wikipedia.com
One set of yarn is called the warp and the other is called the weft. The warp yarn runs perpendicular, while the weft yarn runs horizontally. They're woven together on an industrial loom.
Yarn
Yarn is a textile industry term for interlocked fibres that can be woven into a sheet of fabric.

Image source: Wikipedia.com



Commonly used types:

Spun yarn
Made by twisting staple fibres together into a cohesive thread.
Filament yarn
Consists of very long continuous fibres, either twisted together or only grouped.
Texturized yarns
Made by a process the employs air to texturise filament yarns.
YKK® zippers
YKK® stands for Yoshida Kogyo Kabushikikaisha. YKK® zippers are of very high quality and are known for their reliability and long life. YKK® zippers are ideal for use in waterproof clothing because they are extremely well sealed.
Used in:

Outdoor clothing
Fashion clothing
37.5™ technology
37.5™ technology is the name of a family of materials designed to help maintain your body at its normal core temperature of 37.5° Celsius.
These materials also work to keep the relative humidity of the microclimate adjacent to your skin at 37.5 percent, which is considered optimal for comfort. 37.5™ technology fabrics are produced from volcanic sand and are stippled with millions of micropores.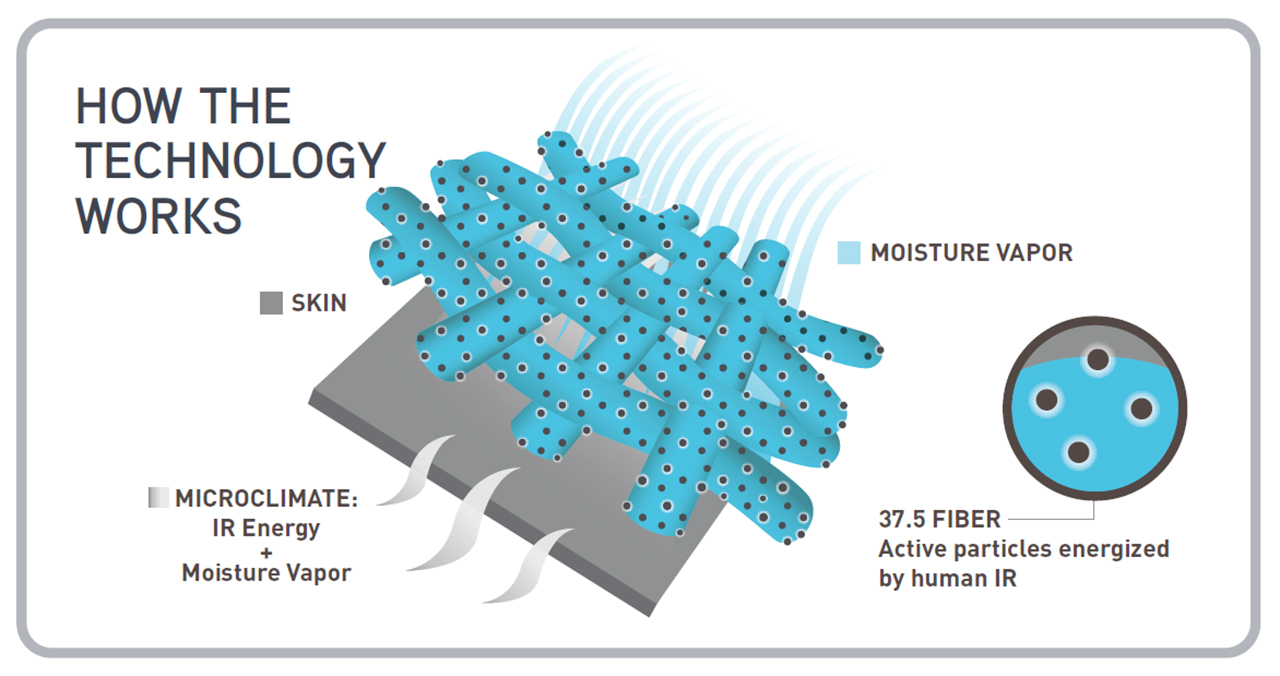 Image source: thirtysevenfive.com
Used in:

Knit fabrics
Merino wool
Breathable waterproof laminates
Fleece
Woven fabrics
Insulation
Footwear fabrics