For military and law enforcement personnel, gear isn't just a tool; it's an embodiment of their mission readiness. In the face of demanding environments and unpredictable conditions, having a waterproof tactical jacket that performs at its optimum is non-negotiable.
In this blog post:
Introduction
Even the stoutest tactical jackets necessitate regular maintenance to uphold their longevity and performance. In this blog, we'll delve deeper into crucial maintenance tips to keep your waterproof tactical jacket durable and protective, ensuring that you remain mission-ready, come rain or shine. 
Common Maintenance Mistakes and How to Avoid Them
Maintaining a waterproof tactical jacket requires a balanced approach, yet, common missteps can often lead to decreased jacket performance. Here are some prevalent mistakes along with tips to avert them:
Overwashing: Washing your jacket too frequently can degrade the waterproof coating faster. It's advisable to wash your jacket only when it's visibly dirty or has a foul odor.
Ignoring Manufacturer's Instructions: Each jacket comes with a specific set of care instructions from the manufacturer. Ignoring these guidelines can lead to irreversible damage. Always adhere to the care instructions provided to ensure the longevity and performance of your jacket.
Using the Wrong Detergents: Harsh detergents or those with additives can harm the fabric and waterproof membrane of your jacket. Stick to mild detergents, and if in doubt, opt for those formulated specifically for technical outerwear.
Delayed Repairs: Procrastinating on minor repairs can lead to major damage over time. Addressing minor tears, loose seams, or faulty zippers promptly prevents them from escalating into major issues that could compromise the jacket's performance.
Improper Storage: Storing your jacket while it's still wet or in a crumpled state can lead to mildew growth and fabric damage. Ensure your jacket is completely dry before storing it, and hang it up or lay it flat to prevent creases.
Neglecting Regular Inspections: Regular inspections help in spotting potential issues before they become major problems. Make it a habit to inspect your jacket for damages after each mission or operation, and address any concerns immediately.
Using Heat to Dry: High heat can damage the waterproof membrane and other technical features of the jacket. Avoid using direct heat or a hot dryer to dry your jacket; instead, opt for air drying or a tumble dry on a low heat setting if the manufacturer's instructions permit.
Avoiding these common maintenance mistakes can significantly extend the lifespan and maintain the performance of your waterproof tactical jacket, ensuring that it continues to serve you well in the field, come rain or shine.
Mastering the Art of Cleaning
Contrary to the common myth, even 'self-cleaning' or dirt-resistant fabrics require intermittent cleaning. Over time, accumulated dirt, oil, and residue can compromise the jacket's waterproofing attributes. You can get more intel from our Ultimate guide to washing tactical gear.
Hand Wash: The gentleness of hand washing is often unmatched. Whenever feasible, hand wash your jacket with cold water and a mild detergent. Shun aggressive wringing, as it can damage the fabric.
Machine Wash: If hand washing isn't your thing, opt for a gentle machine wash cycle with cold water. Ensure to fasten all zippers and flaps to prevent them from snagging during the wash.
Skip Fabric Softeners & Bleach: These agents can wreak havoc on the waterproof membrane, diminishing the jacket's performance over time.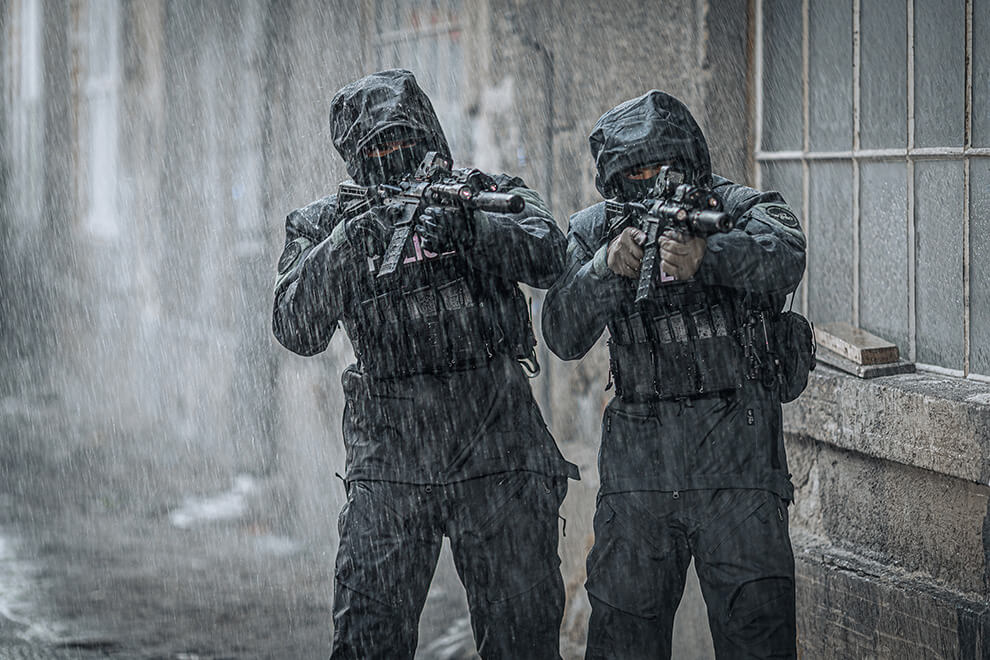 Revitalizing the DWR
The outer shell of many waterproof jackets is graced with a DWR coating, which causes water to bead up and roll off the fabric. However, the efficacy of DWR may dwindle over time. We have a whole blog on how to maintain rain gear DWR treatment.
Regular Checks: A simple sprinkle of water on the jacket can reveal the status of the DWR. If water beads up, you're good to go. If it's absorbed, it's time for a DWR refresh.
Reapplication: Employ commercially available DWR sprays or wash-in products for reapplication. Ensure the jacket is clean before application, and always adhere to the manufacturer's guidelines.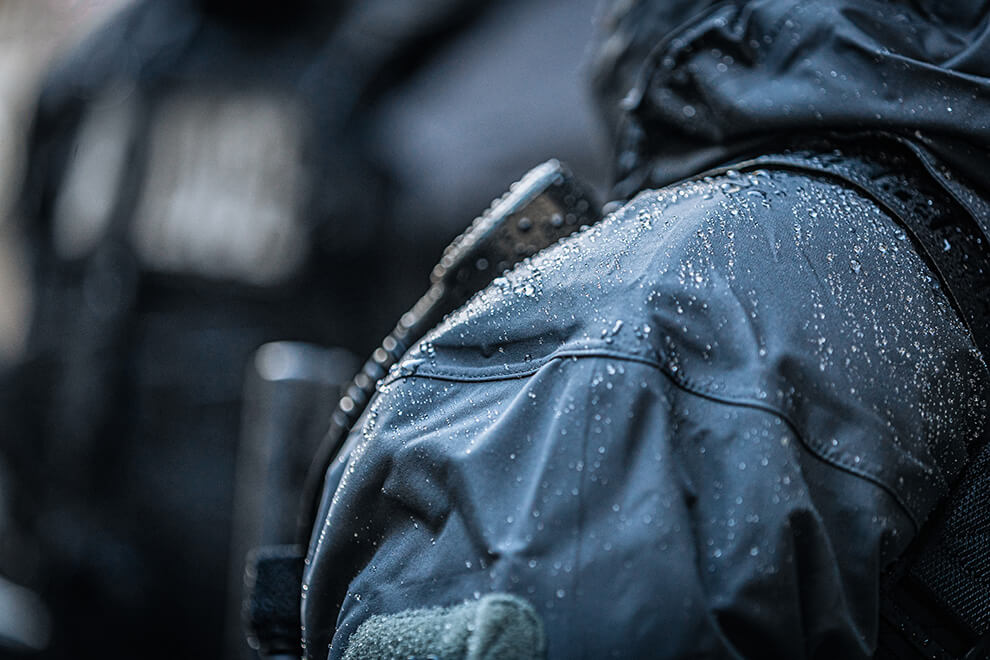 The Drying Doctrine
Drying your jacket properly post-cleaning plays a critical role in maintaining its integrity.
Shun Direct Heat: Exposing the jacket to direct heat sources like heaters or open flames can be detrimental.
Tumble Dry: If permitted by the manufacturer's label, tumble drying on a low setting can be a viable option. This method can also help reactivate the DWR.
Air Dry: Hanging the jacket in a well-ventilated area for air drying is ideal. Ensure it's fully dry before storage to prevent mildew.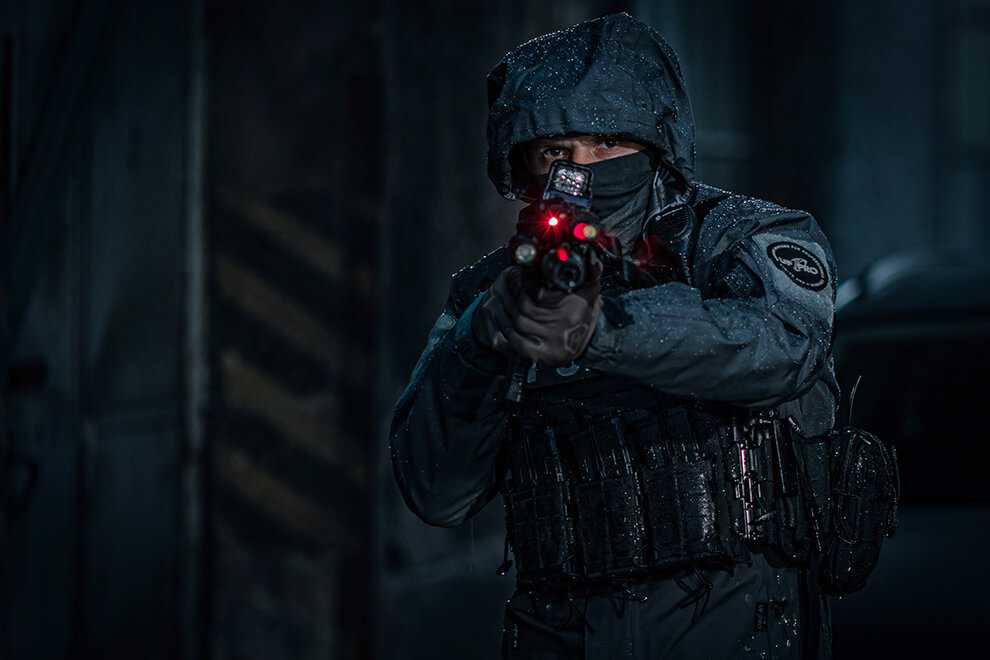 Routine Inspections
Post-mission inspections are crucial, especially after rigorous operations.
Spotting Tears: Minor tears can be a gateway to compromised waterproofing. Address these with specialized patches or sealers.
Zippers & Fastenings: Ensure smooth functionality. A simple brush can clean sticky zippers, and a lubricant suitable for waterproof garments can provide smoother operation.
Seam Security: Seams should remain sealed. Any peeling or separation calls for a seam sealer.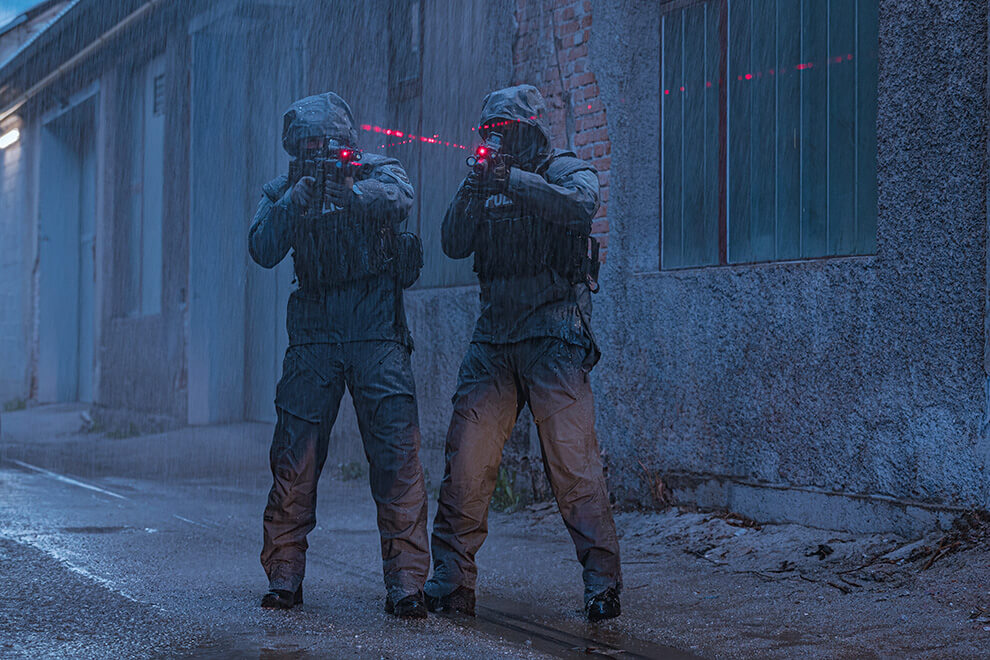 Safekeeping Strategies
Storage practices significantly impact the jacket's longevity.
Crumple-Free Storage: Avoid crumpling which can create creases, potentially weakening the fabric over time.
Dry & Ventilated Area: A moisture-free zone is ideal for preventing mildew formation.
Shield from Sunlight: Prolonged exposure to UV rays can degrade the fabric.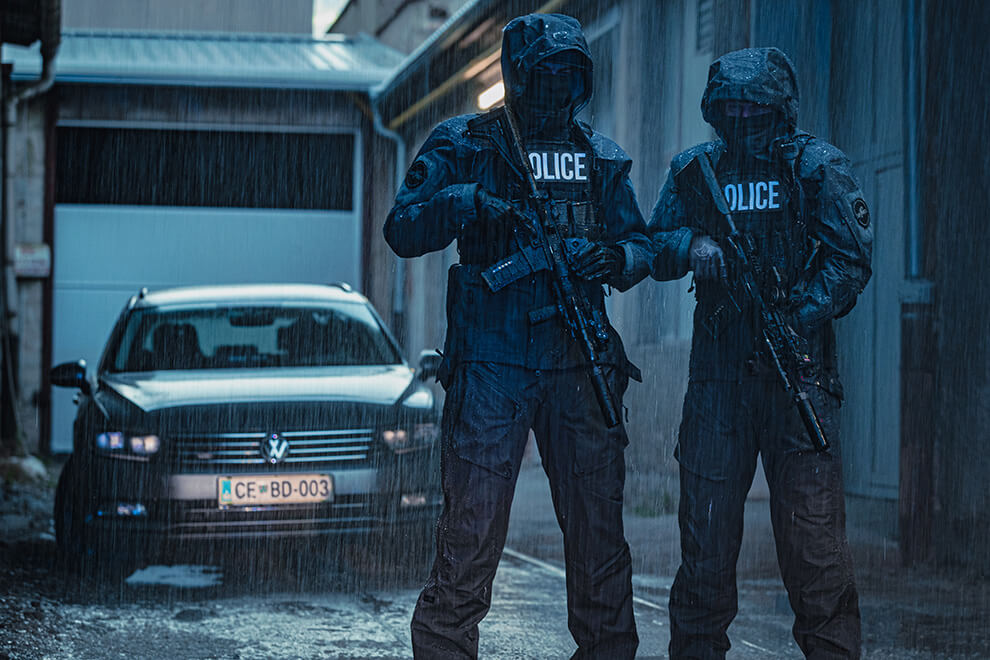 Combating Stains & Chemicals 
Harsh chemicals and solvents are a nemesis to the fabric and waterproofing capabilities of your jacket.
Immediate Cleanup: Address stains promptly to ease removal.
Chemical Awareness: In chemically laden environments, be mindful of your jacket's exposure. If contact occurs, wash the area thoroughly.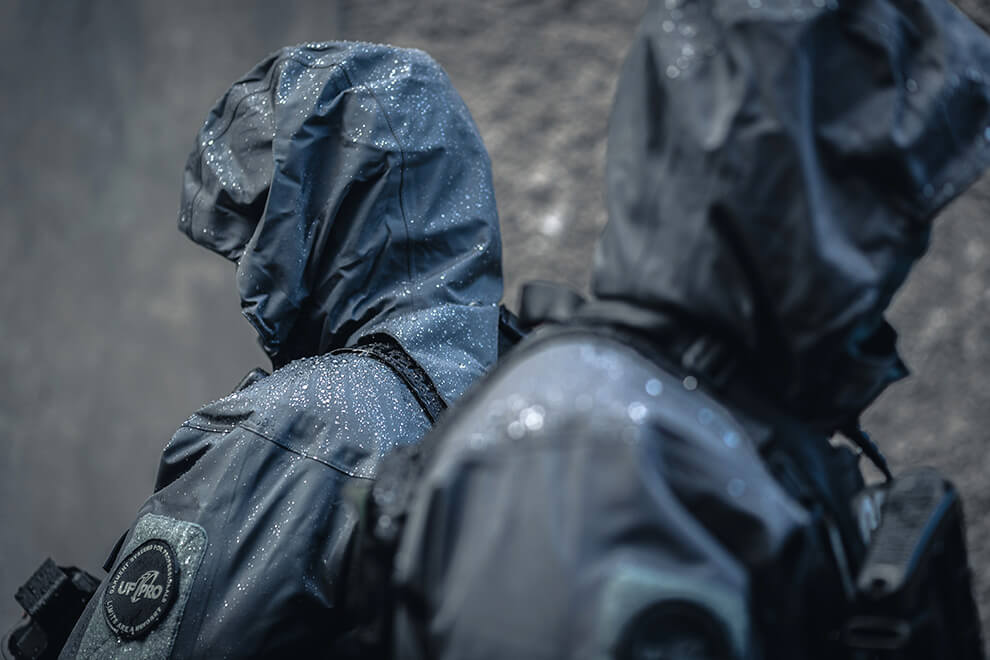 Repair Regiment
Inevitable wear and tear can be addressed with timely repairs.
Professional Repairs: For substantial damage, entrust professionals who possess the requisite tools and expertise.
DIY Route: For minor snags, DIY kits can come in handy. Always test in an inconspicuous area first.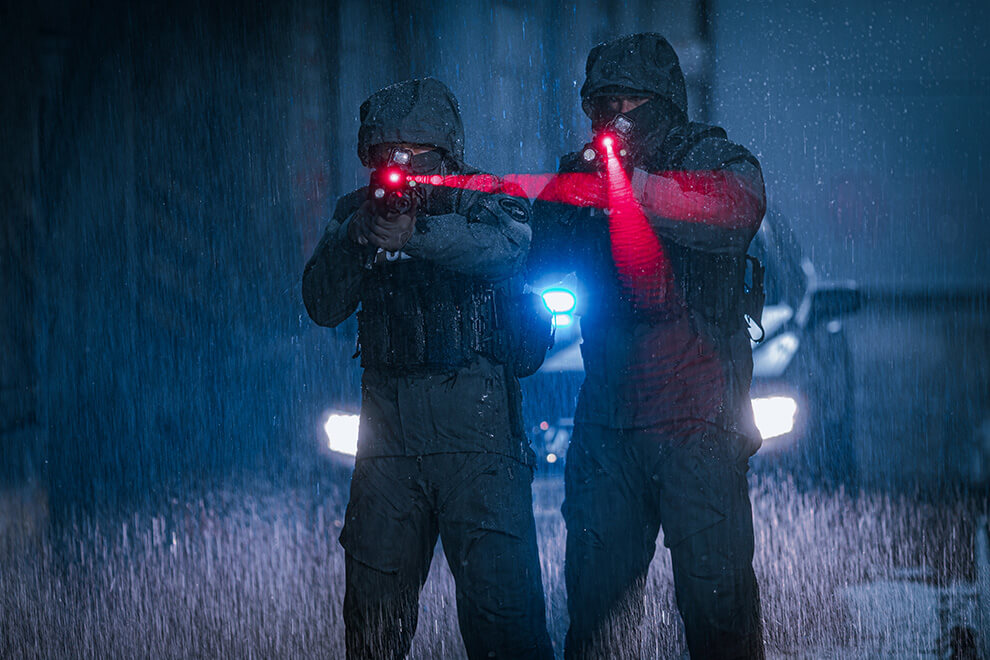 Acknowledging Jacket's Jurisdiction
Every jacket has a threshold. Understanding this can aid in prolonging its life.
Overburdening Alert: Be cautious of the weight limits of pockets and compartments to avoid straining the seams and fabric.
High Abrasion Activities: Activities like rock climbing or crawling can expedite wear, so being cognizant of this fact can help manage expectations and maintenance.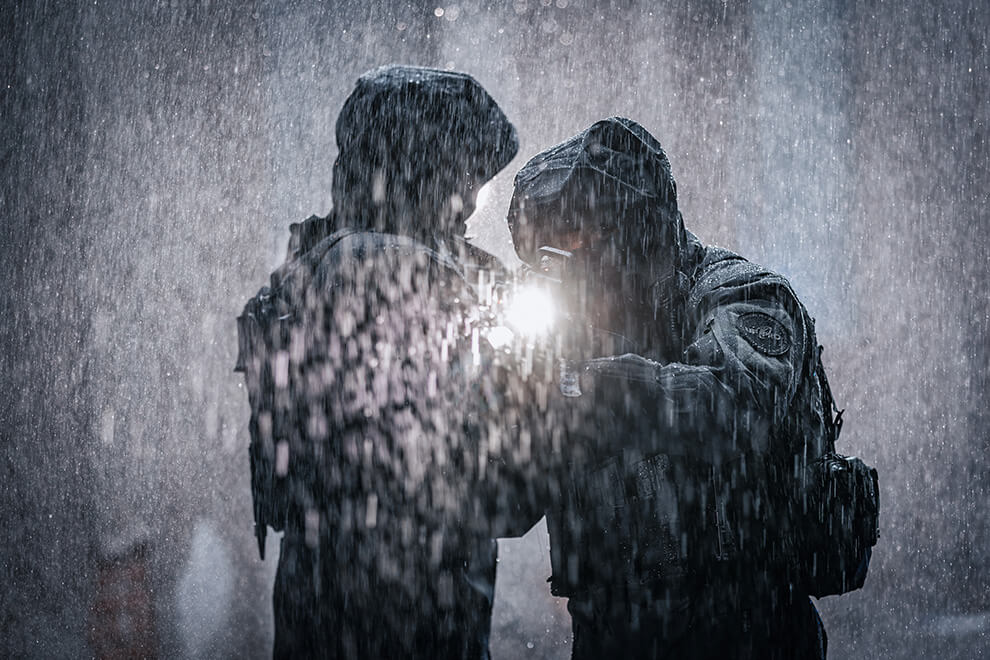 UF PRO Monsoon XT Gen.2 Tactical Rain Jacket
The UF PRO Monsoon XT Gen.2 Tactical Rain Jacket is crafted for the harsh demands of tactical operators. Its durable waterproof construction, combined with air/pac® shoulder inserts and an improved Hood/Harness technology, ensures you stay dry and comfortable even in severe weather conditions. The laminate used in this jacket is a breathable, triple-layer waterproof material that effectively keeps out rain and wind. Additionally, the built-in air/pac® inserts provide lightweight insulation, preventing the "thermal bridge" effect, and help distribute the weight of a backpack or plate carrier evenly across your shoulders and upper back, enhancing comfort during operations.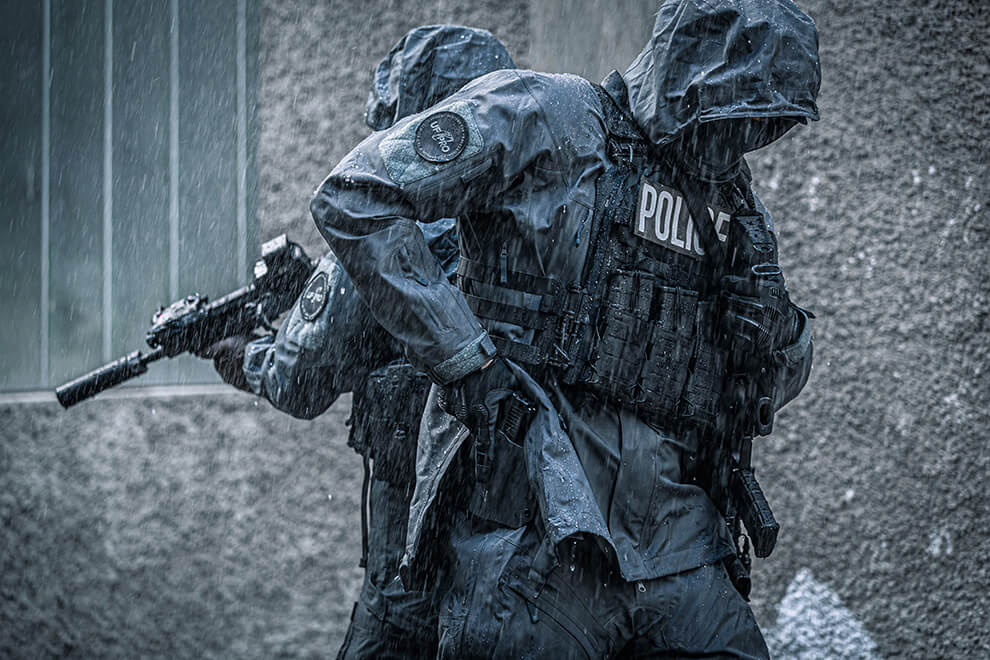 Conclusion
Investing in a waterproof tactical jacket is synonymous with investing in safety, comfort, and mission success. The outlined maintenance tips aim to ensure that your jacket remains a reliable ally through numerous operations and challenges. Regular care and prompt attention to wear or damage are the keystones to ensuring your jacket's durability and protection, thereby fortifying your peace of mind in demanding conditions. You can get more intel about tactical clothing maintenance from our Operator's guide to tactical clothing maintenance.