What is DWR? Why is it applied to waterproof clothing? What are the tricks for making sure waterproof gear stays that way over time? In this post, we'll attempt to answer all three questions. Let us dive in.
What's in this blog post:

DURABLE WATER-REPELLENT TREATMENT.
Textiles become water-repellent by means of a chemical and thermal treatment process applied during manufacture. This process is called DWR—short for durable water-repellent finishing.
Even waterproof fabric receives DWR treatment, despite the fact that its membrane or coating right from the get-go will block penetration by water.
Indeed, when we test the waterproof performance of our GORE-TEX gear, its DWR finish is completely washed off and yet the garment continues to be waterproof.
This tells us that the waterproof performance of, say, a rain suit, is dependant on the performance of the membrane—because, really, the waterproof component of the garment is the membrane itself.
Theoretically, there might not be a necessity for durable water repellent treatment.
So, why does waterproof clothing come from the factory treated with a DWR finish?
4 REASONS WHY DWR IS APPLIED TO WATERPROOF CLOTHING.
DWR PREVENTS SLOPPY CONSTRUCTION FROM PRODUCING LEAKS
Keep in mind that we're talking about waterproof clothing, not water-repellent clothing. There's a big difference between the two (just as there's a big difference between clothing that's water repellent and water-resistant).
Read more about waterproof vs water-repellent here.
Applying DWR treatment to already waterproofed garments acts as a safeguard against sloppy construction of the sort that might permit leaks to develop following heavy usage or multiple washings.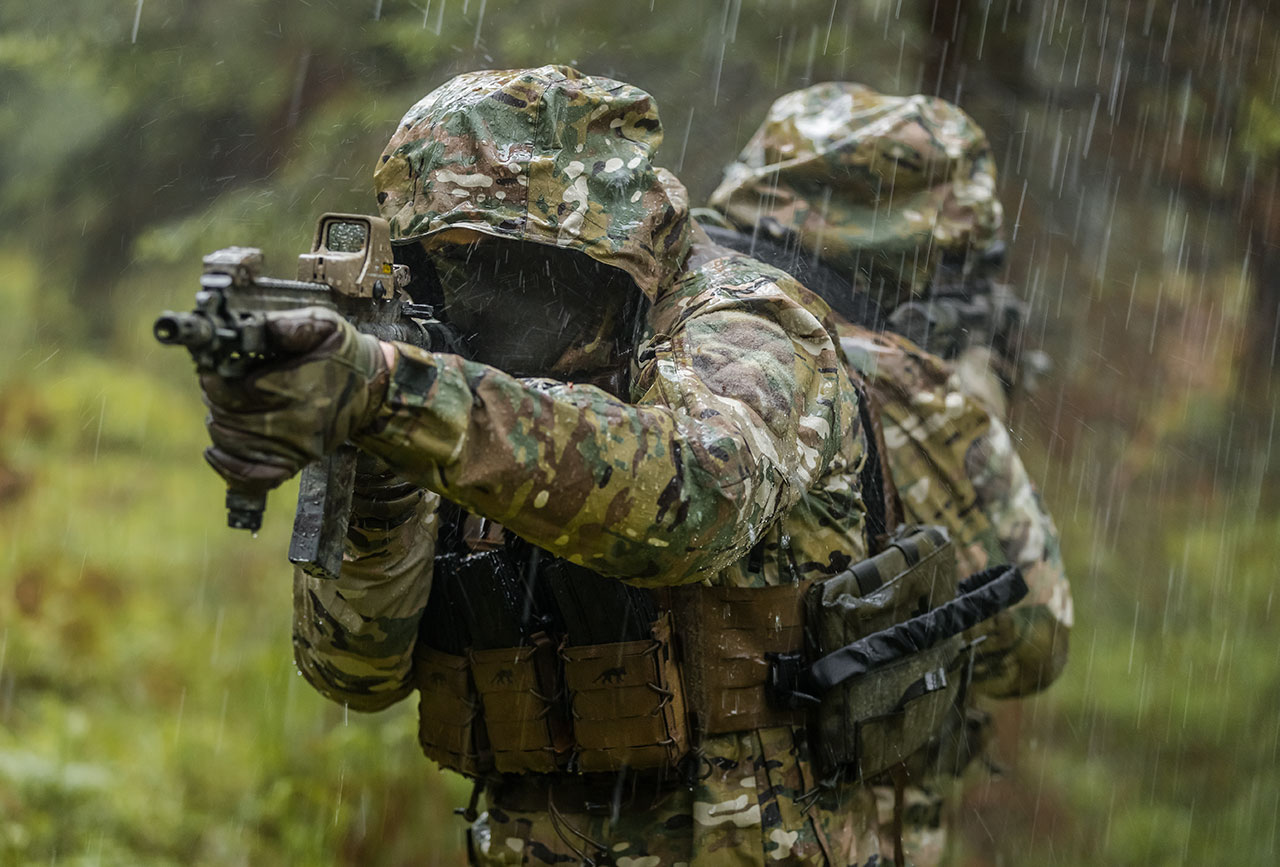 Before a garment made of GORE-TEX can be marketed, it must pass the GORE-TEX Performance Standard (GPS) test to prove its waterproof-worthiness.
Conditioning approval to market a product upon passage of the GPS test is unique to GORE-TEX. Does that mean garments will not be waterproof if made of membrane products other than GORE-TEX?
No.
It simply means that any GORE-TEX garment you buy will come with a guarantee that it passed a demanding test to prove it is waterproof.
In order to conduct GPS testing, we first need to wash down the initial or subsequent DWR treatment so that any construction deficiencies can become evident.
DWR PREVENTS WATER FROM ADDING WEIGHT
All membrane products have an upper or outside fabric layer (also called the face fabric). The membrane is always located behind this layer.
DWR prevents the face fabric from absorbing moisture or water.
This is important because absorbed water adds weight to the garment and in some cases, weight gain can be significant.
Good DWR treatment ensures that the garment retains its actual weight, even after hours of exposure to everything from light rain to a torrential downpour.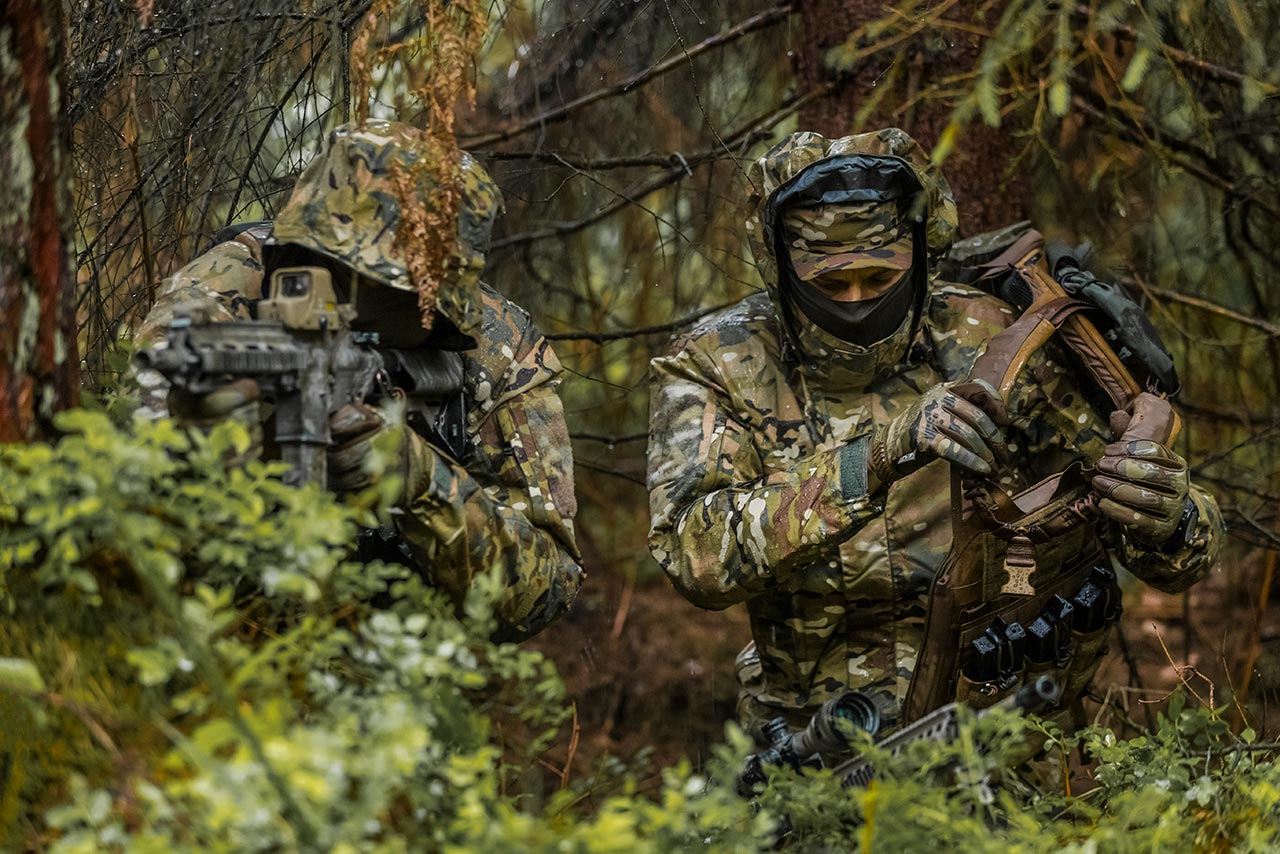 DWR AVOIDS PSEUDO-LEAKAGES
Another benefit of good DWR treatment is it prevents you from feeling as if the garment is leaking.
If the face fabric becomes soaking wet, it will create a sensation of clamminess between your body and the inner fabric.
The garment might not be actually leaking, but the clamminess can make you swear that it is.
It's a nasty effect, no doubt about it.
One way to fight that feeling of clamminess and being anything other than dry and comfortable is to create interior "air cushions", by using UF PRO air/pac® inserts.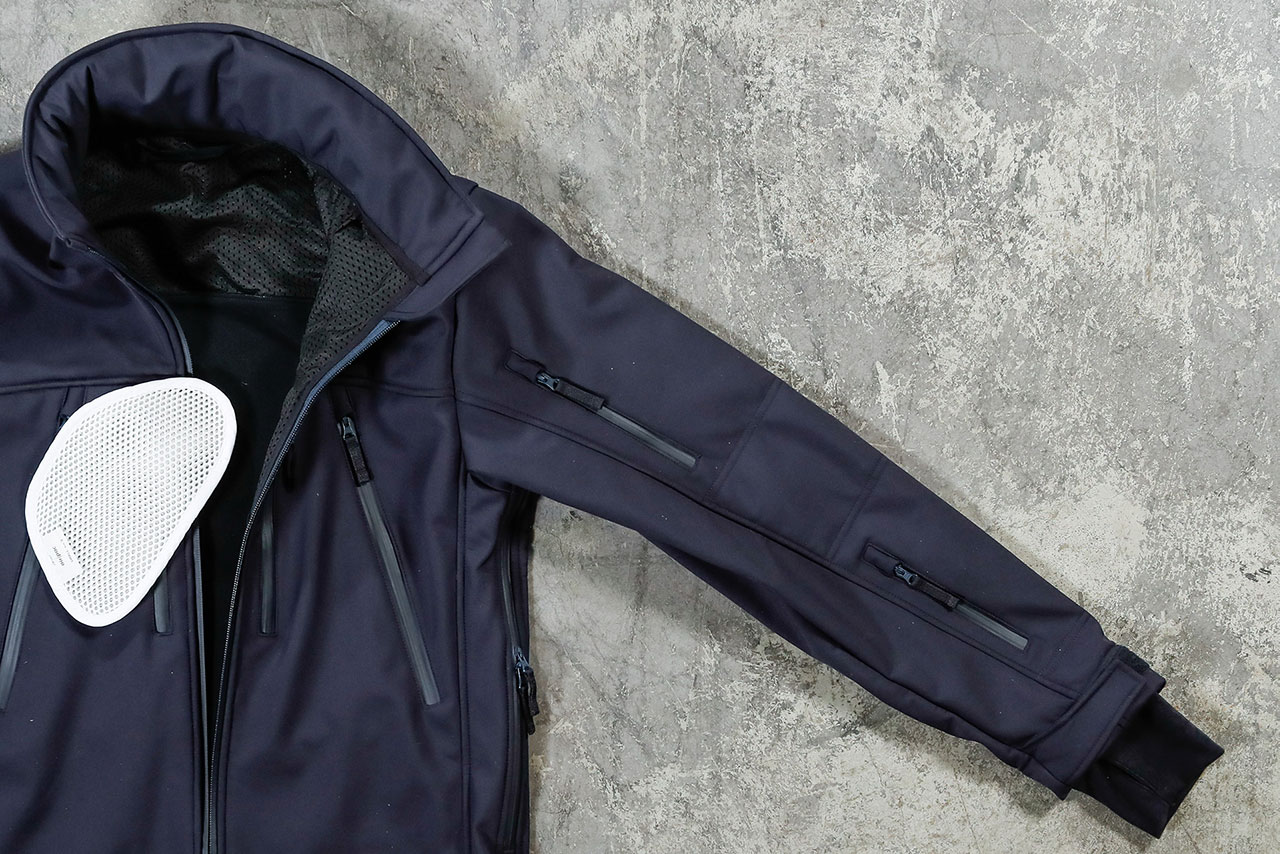 Feeling of clamminess can be reduced by using UF PRO air/pac® inserts.
The air/pac® inserts help enormously, but only in the exact position where you place them—and where they are designed to go is in just the most critical areas. In all the other areas, one has to rely on the DWR treatment.
Learn more about our UF PRO Monsoon Tactical Rain Jackets which use air/pac® inserts in shoulders to prevent thermal bridges.
DWR ACTS AS A TEMPORARY PATCH OVER MICRO HOLES
Sooner or later the membrane will almost surely develop micro-holes.
Micro-holes are hard to avoid, especially after you've subjected your waterproof clothing to rugged outdoor use or while wearing atop it a backpack, chest rig, or similar other external carrier equipment.
Your garment is also bound to come into contact with pine needles, sand, earth and other small particles. From this contact micro-damage to the garment's membrane occurs.
Read more about the Limits of GORE-TEX here.
You can minimize the potential for this problem by washing your garment thoroughly after outdoor use.
This helps flush away particles that can become trapped within the outer fabric structure—particles that, if left alone, will tend to burrow through the membrane.
DWR is your best defence.
It can act as a temporary patch over micro-holes in the membrane, thereby keeping water and moisture at bay so that you can remain dry.
However, you won't remain dry indefinitely. The patch effect lasts only until you subject your garment to pressure.
In light of all this, it is important to apply a DWR treatment to already waterproofed garments.
But is it also important to apply a DWR treatment after a routine washing?
Very possibly. Here's the explanation.
DWR is not permanent; it loses its integrity over time and dissipates. So in order to preserve your garment's waterproof and breathable properties, the DWR needs to be renewed after a protracted time of wearing or following many wash cycles.
However, there are some things you can do prior to applying DWR that will make the treatment's effects last longer.
---
SIGN UP FOR MORE INTEL LIKE THIS.
Enter your email and stay in the know with updates about tactical clothing and other relevant topics.
You are signing up to receive updates via e-mail from which you can opt out at any time. Visit our privacy policy for more info.
---
HOW TO MAINTAIN DWR
STEP 1: CHECK THE CONDITION OF THE DWR TREATMENT
You can on your own test to see how much of your gear's DWR finish remains on the fabric.
Just sprinkle some water on your gear and notice whether the water forms into round or flat drops. Round is good, flat is bad.
Also bad is if the flattened drop immediately spreads or, worse, absorbs into the outer fabric.
STEP 2: IRON OR TUMBLE-DRY YOUR CLOTHING
You can reactivate the factory-applied DWR finish simply by ironing the outer side of your rain gear.
This will help preserve good DWR performance without the need to resort to chemicals (which you should avoid using because they can damage the breathability of your gear and also because they can contribute to the pollution of streams, rivers, and lakes).
Another related trick is to machine-dry your gear. The clothes dryer's heat will cause some degree of DWR treatment reactivation.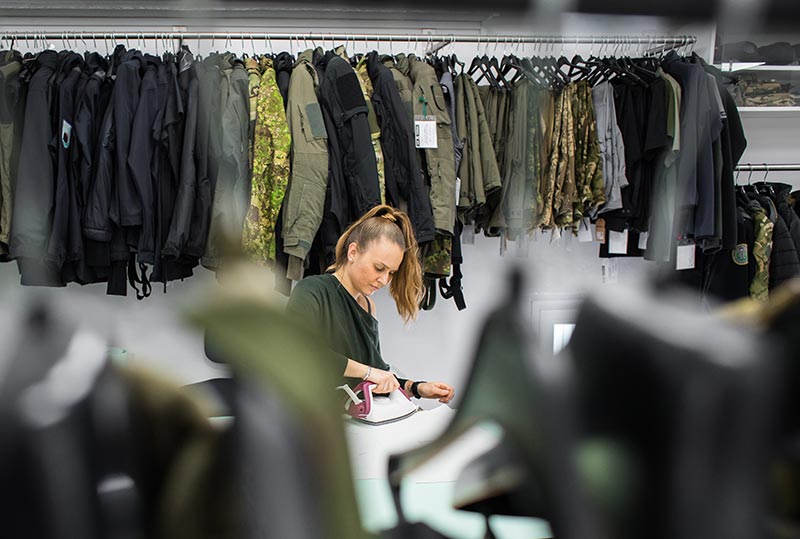 STEP 3: APPLY WATER-REPELLENT TREATMENT (BUT ONLY IF STEP 2 FAILS)
If you end up having to apply new DWR because the washing-machine procedure doesn't work, you might—as do I—find it best to treat just the outer face of the garment.
Here's why.
I know I'm going to sweat while wearing my waterproof gear, so I prefer that the perspiration be spread over as big an interior surface area as possible. That way, the sweat will most readily and rapidly evaporate through and out the fabric membrane.
My sweat won't evaporate very well if DWR is inside the garment.
Instead what will happen is my sweat plus the condensation it produces will largely remain trapped and dribble down along my arms and torso.
Even though DWR isn't the essential factor which keeps your clothing waterproof, it's still a nice feature to have on any waterproof gear.
And now you know what it takes to maintain that nice feature (which, by the way, you'll find on all of our UF PRO Monsoon Tactical Rain Gear and some P-40 and Striker Combat Pants).