They are those Egyptian-looking hieroglyphs which come with each piece of clothing we buy. And it's so tempting to simply cut the tags away and focus on more important stuff.
But wait!
These symbols can really help you keep your clothing in good shape over the course of time.
In this blog post we'll dig into the most important care symbols and explain everything you need to know to take proper care of your gear.
So without further ado, let's jump into the most important care symbols.
THE BASICS OF WASH CARE SYMBOLS.
There are basically five different groups of care symbols you need to know.
They explain how you should wash, dry, and iron your items, and whether you can bleach and dry clean your clothing.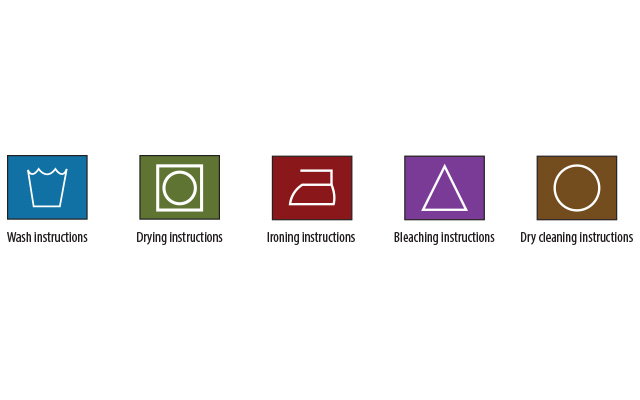 The number of dots in a symbol tells you how high the temperature can be: the more dots, the higher the temperature.

If a symbol is underlined, it means you should use gentle washing conditions. Also, more lines mean more delicate washing conditions are needed.

And if a symbol has a stroke through it, then it obviously means you shouldn't be doing whatever the symbol represents.

Now that we know the basics, let's look at the five groups of care symbols.
WASHING INSTRUCTIONS.
These care symbols tell you which button you need to press on your washing machine.
You can easily identify these symbols as they depict a washtub filled with water.
In our clothes you'll find instead of dots a number inside the washtub, which represents the maximum wash temperature.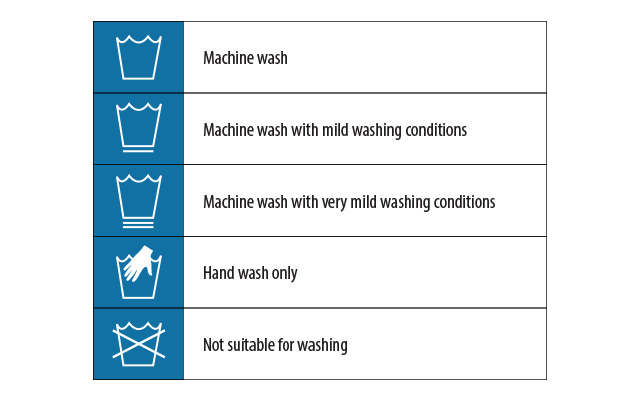 DRYING INSTRUCTIONS.
Once you've successfully washed your clothes, it's time to dry them. And what better and faster way to do it then throwing it all into the dryer!
But the sad truth is that most of our products made out of NyCo or PolyCotton would be better off if dried naturally, as there is the risk that you'll no longer fit into them after machine drying.
The relatively high temperature of a tumble dryer can cause your clothing to shrink.
However, I have to admit that now and then I personally can't resist the speed and practicality of a dryer.
But be prepared for your gear to be a bit tighter after a tumble dryer session.
But if it wasn't already tight-fitting, it will probably become comfortable again after a couple of hours of wear.
BTW, did you know that drying your waterproof gear in a drying machine reactivates the DWR treatment?
The symbols for drying are represented by a square with a circle inside it.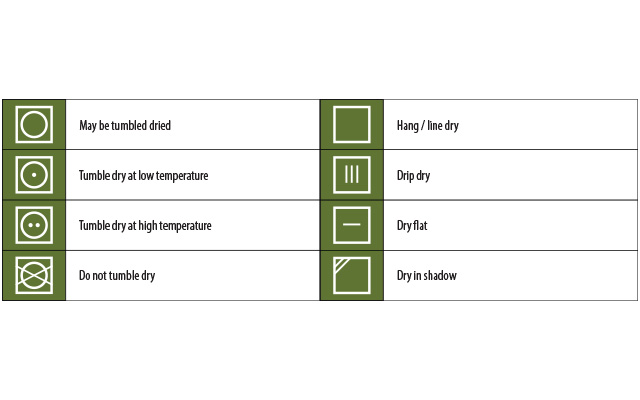 BLEACHING INSTRUCTIONS.
Bleaching is great when it comes to whitening your prom night shirt, but it's a bad idea to bleach gear with near-infrared properties.
We actually had a case where a military unit tested their new camouflage uniform at night and realized they were glowing like Christmas trees.
It later turned out they'd been washing their uniforms with either a powder containing optical colour intensifier, or one with added bleach products.
The bleaching symbols are represented by a triangle, and in most UF PRO® products you'll find a double-stroked triangle, which means "do not bleach".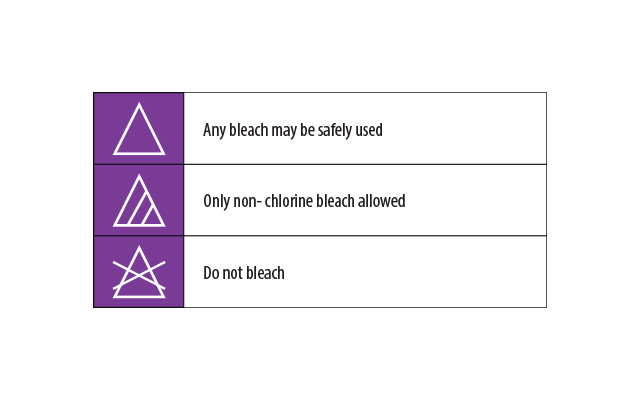 ---
SIGN UP FOR MORE INTEL LIKE THIS.
Enter your email and stay in the know with updates about tactical clothing and other relevant topics.
You are signing up to receive updates via e-mail from which you can opt out at any time. Visit our privacy policy for more info.
---
IRONING INSTRUCTIONS.
If you want your gear to be wrinkle-free, you'll have to iron it.
The iron icon tells you if an item may be ironed and how hot to set the iron. The more dots in the iron icon, the higher temperature can be used.
Just as with drying your waterproof gear in a dryer, you can also reactivate the DWR treatment with ironing.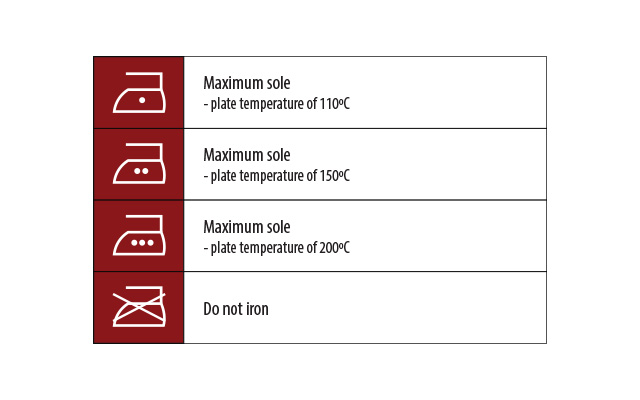 DRY-CLEANING INSTRUCTIONS.
And finally, the circle icons tell you if and how the clothing can be dry cleaned. Not much more to say here.
The letter inside the circle tells the dry cleaner what process is required, so you needn't concern yourself with this.
In most of our clothing you'll find a P, which means that any dry cleaning solvent other than trichloroethylene may be safely used.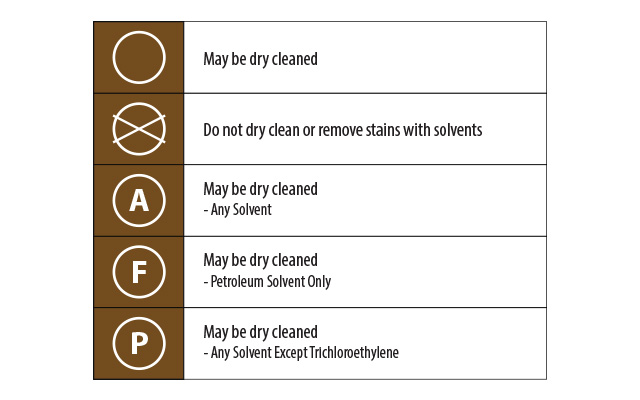 CONCLUSION.
Those are the most important things you need to know about care symbols.
As mentioned in the introduction, following the care instructions can really help your clothing to keep its original shape and colour for a longer period of time.
So the extra effort of reading and following the care symbols is totally worth it.
And to make your laundry life even easier we have created a handy at-a-glance list of care symbols legend, which you can download here.
In the comments section below you can let us know if you have any additional questions regarding the treatment of your UF PRO® gear- we'll be happy to answer them.