For some people, GORE-TEX is like a magic word, and their expectations are accordingly high. But how does the material actually perform? Where and when is it the right choice? And last but not least – what are the limits of GORE-TEX?
We'd like to take a closer look here at these questions, and also investigate some alternatives to this technical textile.
IT NEVER RAINS, BUT IT POURS...?
Most of you who aren't deterred by bad weather when it comes to outdoor activities will probably be familiar with the following scenario.
It's early spring, or maybe autumn, and you're out and about with a medium-sized rucksack. The temperatures are friendly for the time of year, the sun is smiling down benignly – and then suddenly the weather changes, and it clouds over.
The clouds grow darker and darker, and you hope you won't be caught by the impending rain.
But luck isn't on your side today, and it's just as you feared: there you are, stuck beneath heavy black rain clouds, and the first droplets are starting to fall.
So what do you do?
Well, of course, you first try to find cover underneath a tree or some makeshift shelter – so that you can get out your Monsoon rainwear.
Then you wait a couple of minutes to see whether the rain stops, but no, only false hope. The rain not only continues; it becomes heavier...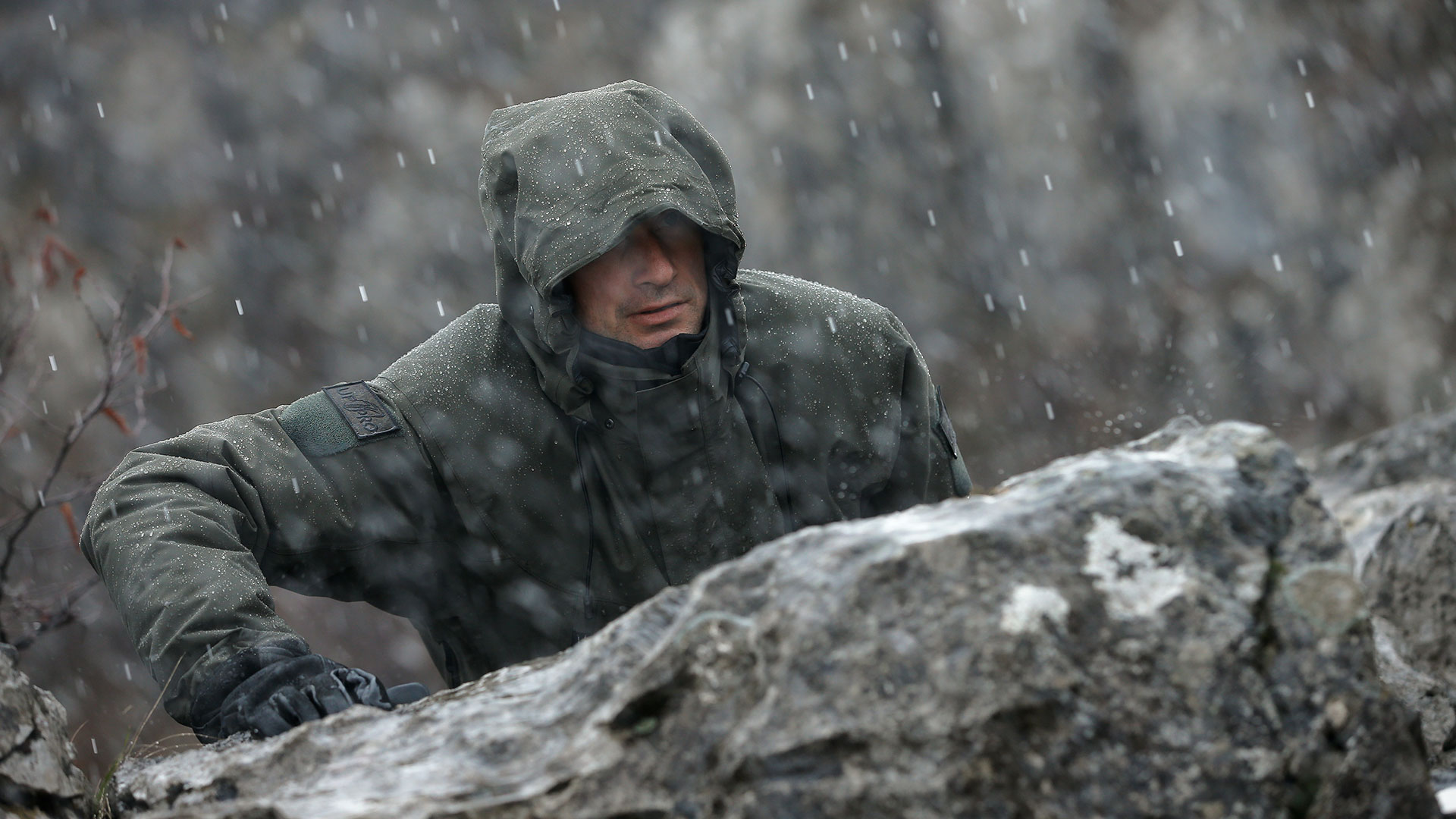 At first, it even feels refreshing. Particularly if your rain gear keeps the promises UF PRO have always made.
The rain doesn't penetrate your clothes – but nonetheless, after marching on for half an hour, you're dripping wet. But not from the outside, not from the bad weather. It's coming from the inside, from your own sweat.
Because no matter how "breathable" the material supposedly is, a truly waterproof laminate like GORE-TEX is a compact barrier.
And it might be thin, allowing some sweat to pass through as steam – but "some" is about as much as it can manage. Ultimately, the fact is that you sweat far more when you exert yourself than the material can cope with transporting out.
Plus, one can safely assume that most physical exercise will produce more sweat than even the best GORE-TEX, XCR or Special TEX membranes can let through.
So basically you're caught between the devil and the deep blue sea. You can choose between getting soaked by rain or by sweat.
Personally, I find the latter option preferable – because at least if you're wearing GORE-TEX rainwear, you're protected from the wind which always makes you feel so much colder.
Even if you're soaked in sweat within half an hour.
It's having been in such situations – where wind protection is all I've had – that I've realised I'm not soaking wet from defective rain gear, but from sweat. Enough to make me feel like I've been standing below a waterfall.
This misunderstanding leads me to my next point...
SELF-CHECKS AND REPAIRS.
Often, we find that customers send in their waterproof clothing for repairs, and yet we can't find any defective areas. So we can only recommend you check your clothing for defects at regular intervals.
There is a simple and effective way of doing this, which will also help you to avoid long waiting times:
Put on some light-coloured underwear with your raincoat over the top.
Then stand under the shower.
In places where the rainwear is damaged, dark, damp spots will appear on your underwear within just a couple of minutes.
This self-check will not only tell you whether or not your rainwear is still waterproof, but will also highlight the exact places where it is defective.
In general, defective areas are caused by damage to the membrane. Such damage can occur even when you wear your rain gear for the first time.
However, it's not a major problem. If you can tell us exactly where the garment "leaks", we can make it permanently waterproof almost immediately.
---
SIGN UP FOR MORE INTEL LIKE THIS.
Enter your email and stay in the know with updates about tactical clothing and other relevant topics.
You are signing up to receive updates via e-mail from which you can opt out at any time. Visit our privacy policy for more info.
---
GORE-TEX AT ITS BEST.
GORE-TEX functions particularly well when you're sitting in front of a campfire in the evening, or during a long break – times when you're relatively inactive and aren't sweating.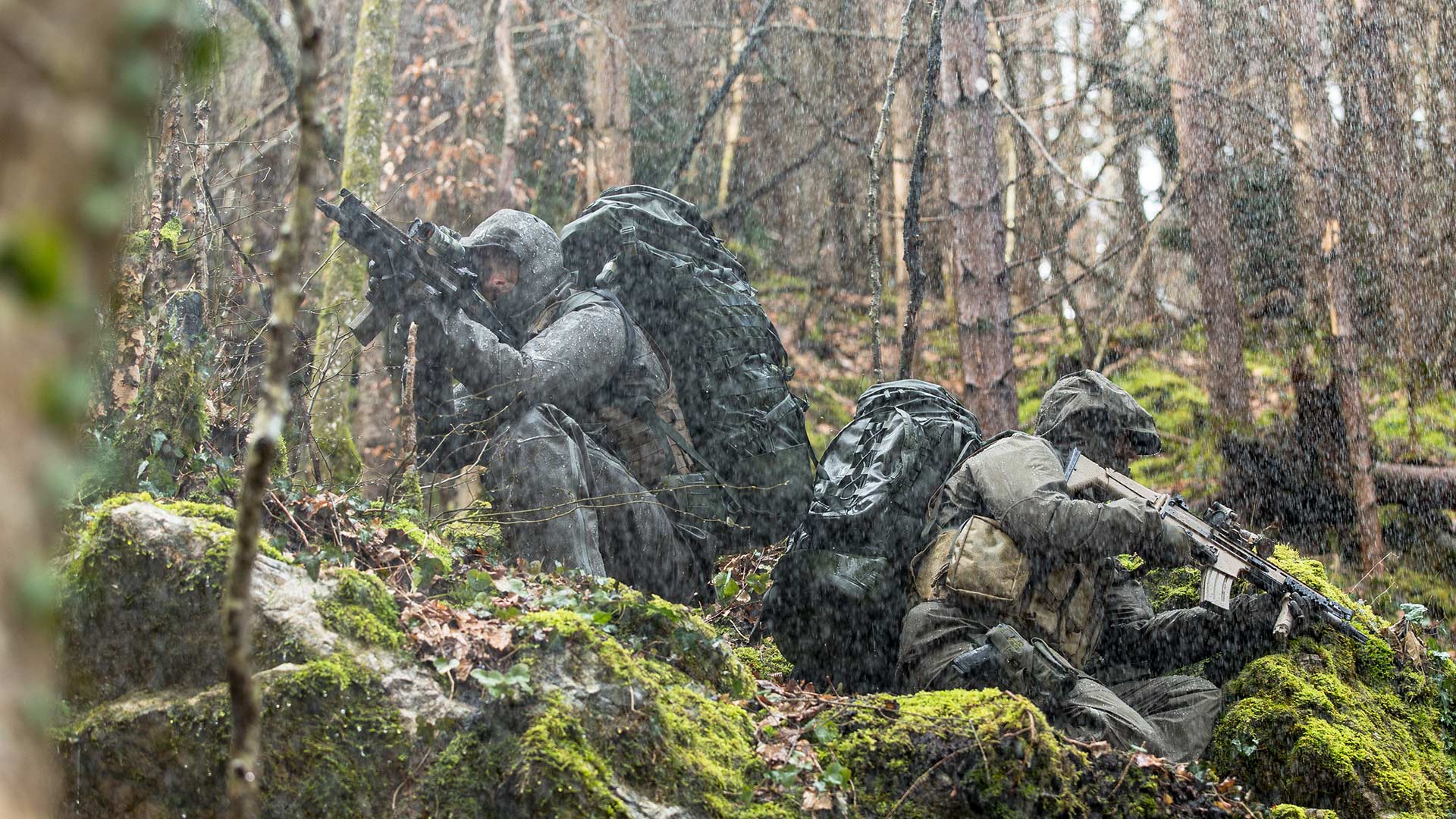 If you're wearing mid and base layers which distribute and transport moisture evenly, you'll soon get dry again, even in the rain. Assuming your rainwear is waterproof, of course. You can read more about the performance features of GORE-TEX laminates here.
EXPECTATIONS AND REALITY.
So the real problem is basically that you won't always stay as dry with GORE-TEX clothing as advertising might lead you to believe. So what are the alternatives?
Rain gear which is manufactured using membrane-based materials which are not as waterproof as GORE-TEX, but considerably more breathable. The advantage of such materials is that you're likely to sweat a little less; however, you do risk getting wet from the outside fairly promptly if you sit or kneel. At the end of the day, it's wiser to opt for a more waterproof version in such cases.
A poncho: The very design of a poncho precludes it from being waterproof. And they're normally not made of breathable materials either. Nonetheless, a good poncho is always an integral part of my equipment, because they're so very versatile.
Softshell: most softshell materials, such as the original GORE-WINDSTOPPER, are as breathable as good GORE-TEX materials. However, the disadvantage here is that the seams generally have a "wicking" effect which allows moisture to pass through. So personally, I use softshell primarily when I'm out and about in low temperatures, and not first and foremost as rain protection.
Some time ago, a relatively interesting phenomenon appeared under the name of "EPIC". Initially, it appeared very promising. This technology involves siliconizing fibres. The result is very windproof, with an excellent water column; theoretically, the breathability of the material is also much better than for typical membrane products. So the approach actually seems to be on the right track. However, there appear to be problems, because for some reason these products keep appearing and disappearing.
Another new technology is also on the rise, which we've been testing for some time with excellent results. This involves a finely woven fabric made from a long staple, soft weave cotton. With a water column of around 7000mm, the fabric is relatively waterproof and windproof but has a level of breathability comparable to that of normal, non-membrane fabrics.
FROM VENTILE TO ETAPROOF®.
One exciting aspect about the first mentioned technology is that it was first discovered in Britain during the 1930s, where it was given the name "Ventile".
It was initially developed for fire hoses, due to a shortage of flax, but was then also deployed in clothing for war pilots, to protect them from freezing when forced to bail out over water.
If you'd like to know more about the brief history of these materials you can read more about it here.
THE M1 URBAN JACKET.
For our new M1 Urban Jackets, we hence decided to fall back on this tried and trusted material and use the technology in the form of a medium-weight EtaProof® fabric.
After conducting extensive tests, we were able to verify that the fabric's characteristics correspond fairly accurately to the information provided by the manufacturer Stotz.
Our M1 jackets are comfortable to wear and offer all the advantages of cotton. Not only are they breathable, but the material also "feels" like a natural fibre.
It's also very interesting to see how EtaProof® copes with rain: it becomes slightly more rigid, and you can feel the cotton swelling up and forming a waterproof barrier. But the most sensational part is that it still feels just as breathable.
This means that you can not only enjoy the comfort of natural fibre, but also the same level of protection that you might expect from technical textiles.
ALL'S WELL THAT ENDS WELL.
Thanks to old and new technology, we now have fabrics which provide adequate and customised protection in all kinds of weather conditions and situations – whether it's a waterproof GORE-TEX membrane that keeps you dry in an unexpected downpour, or a softshell material that keeps you warm when you're out and about in cold temperatures, in combination with other water-repellent materials.
And we've also learned that it can make sense to take a backward look and revive tried and trusted materials – as reflected in EtaProof® and its use in our new M1 Urban Jacket.