[Update 2020] Admittedly, slim-fitting clothing looks far better than baggy pants and beefy jackets. But our first priority in clothing isn't fashion. It's performance. The highest. And that means clothing offering superior functionality, comfort, and safety.
What's in this Blog post?
Introduction
There are multiple ways to describe tactical clothing and its key features, but the ergonomic aspect of the overall design is something easily overlooked unless raised for discussion.
So what even is ergonomics? And how does it become so crucial an aspect that we need to talk about it?
Well, first, you need to know that ergonomics is a scientific discipline. It's concerned with understanding how humans and the elements of a complete system interact with one another.
Ergonomics is also closely related to physiology, psychology, engineering, and statistics, wrapping these separate fields into one system and producing a quantifiable dataset from which you can work.
Simply put, ergonomics is the science of studying the interface between operators and the work environment. In our case, the interface between the environment and you is the garment itself.
But how exactly does the ergonomic design affect the efficiency and functionality of tactical clothing?
Let's consider a few simple statements. These will give you some perspective into our design choices, and we'll follow them up with examples drawn from our garments.
STATEMENT 1: Ergonomically designed clothing is more functional.
A key part of what we think of as ergonomic design is anatomic fit. Look at pockets, for instance. A pocket serves as a great example of why anatomic fit is so valuable to operators.
Assume you keep your GPS or knife in a particular pocket (for example a cargo pocket or knife pocket). You keep it there all the time. You also know where that pocket is. So, when you reach to grab for that GPS or knife, your hand reflexively goes straight into the pocket. You don't have to give it much thought because your brain has already anticipated where to find that pocket.
Anatomic fit ensures this reflexive ability to find the pocket remains true no matter what you're doing at any given moment—be it kneeling, standing, or laying down—because that pocket will be in the exact same spot relative to your body.
STATEMENT 2: Movability is essential to tactical garments.
Clothing can be made in a variety of ways so as not to restrict your movement. One way, for example, is to use the familiar baggy "potato sack" design.
The "potato sack" was a mainstay of the last century because it's a proven design. It works. But it also carries with it some clear-cut downsides and few, if any, advantages compared to those of anatomically cut clothing.
Another way to avoid restricting movement involves incorporating "smart" materials to create the anatomic fit.
STATEMENT 3: Ergonomic clothing conserves energy.
If your clothing is not ergonomically designed, you can expect to be constantly tugging at it—basically demonstrating that it's working against your own gear. This consumes energy, more than you would normally expend were you not frequently readjusting, shifting around in, or in some way manipulating your gear (such as you might do if you were fretting about whether your belt, backpack or body armor will follow you over the fence or become entangled on it).
What's more, if your clothing is not ergonomically designed, if it's loose fitting, it's going to trap more air than it would if it were close fitting. In the summer months, when temperatures soar, a large volume of air trapped between your skin and the fabric increases the heat.
That means you're likely to sweat excessively, lose hydration, and overheat. When those things happen, you're going to feel more tired.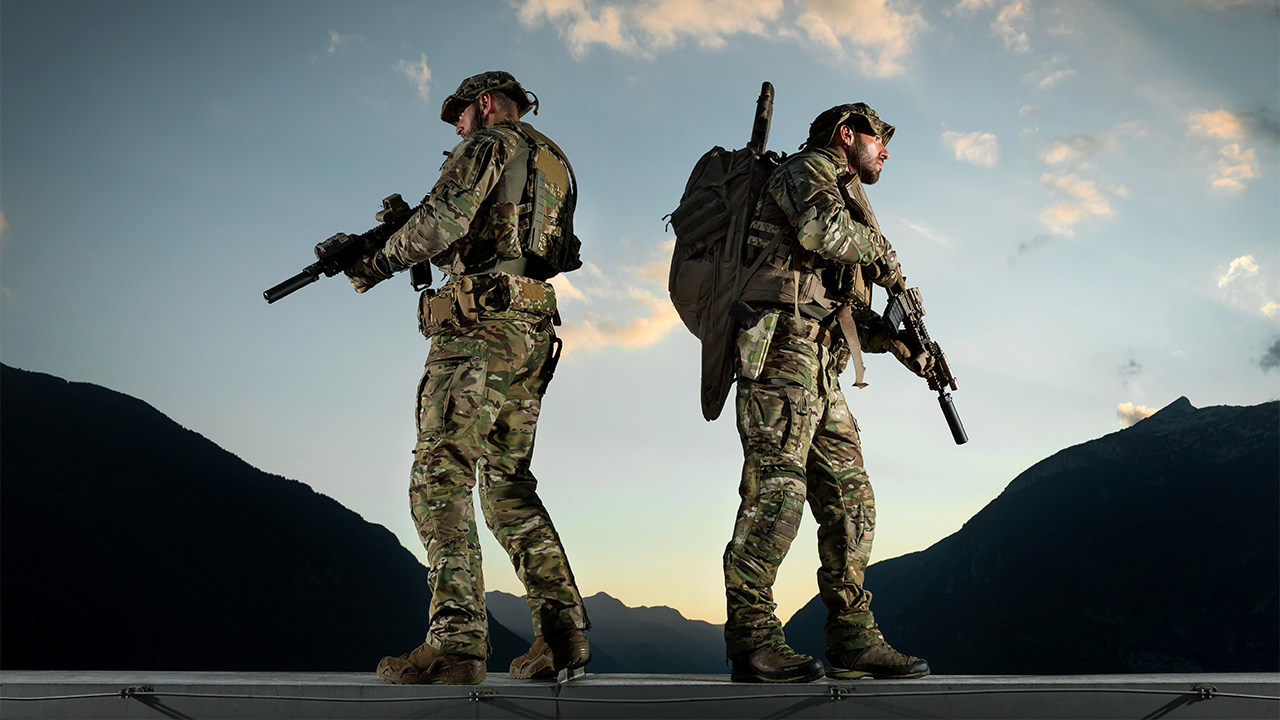 Slim-Fit Tactical and Combat Pants
Now, when it comes to a pair of tactical pants or cargo pants, ergonomics poses a notoriously big challenge.
The challenge stems from the fact that the lower half of the human body while in motion expands and contracts a lot.
For that reason, it's often thought that the answer to this challenge of body expansion and contraction is a baggy pants design (which, in some circles, is a design synonymous with comfort and full range of motion).
There also are those who equate tighter fit with restricting your movements (however, it's possible to overcome the movability issue by employing a clever design that features an innovative cut).
But slim-fit pants tend to improve operator safety. The explanation is that slim-fit pants utilize less material than baggy pants. Less material means there is less possibility of your pants getting snagged on a protruding tree branch or a section of barbed wire as you pass by.
Another slim-fit advantage is it's much easier to keep add-ons and functional elements in place. If the pants are smartly designed, it won't be necessary to include adjusters in the form of extra straps, hooks, loops and buckles. The knee protector pockets of our UF PRO tactical and combat pants are a good example of this. Without any additional strapping, our knee protection stays where it should—right in the performance zone and optimal for support and comfort.
One more trick for making slim-fit pants work with instead of against you involves the use of stretch panels. Those are a standard feature of our pants.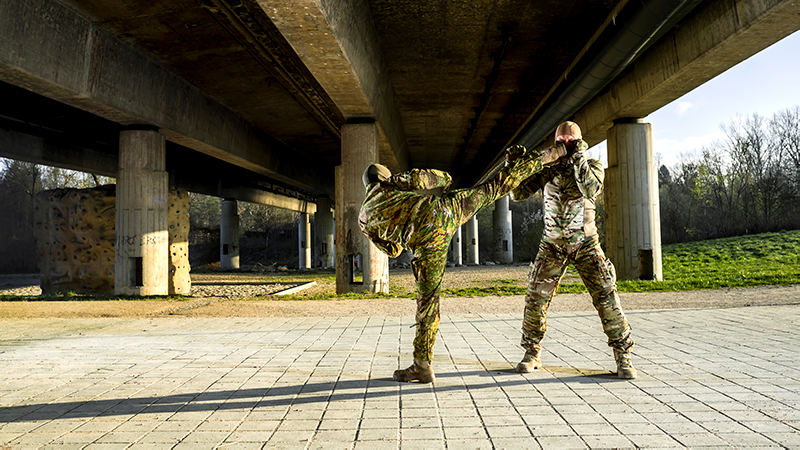 HOW ABOUT JACKETS, SHIRTS AND PULLOVERS?
The physiology of the upper torso is quite different from that of the lower torso and legs.
Nevertheless, the objective when designing ergonomic garments for the body's bottom half is very similar to the design objectives for its top half: in order to support functionality and safety, tight-fitting jackets must permit maximum movability.
Most upper-body ergonomic clothing is designed to be worn in layers. Layering in general is based on the "onion skin principle". But, with ergonomic clothing, care must be taken to design each garment in the layering system in such a way that the operator doesn't end up looking like the Michelin Man when several items are worn one atop the other.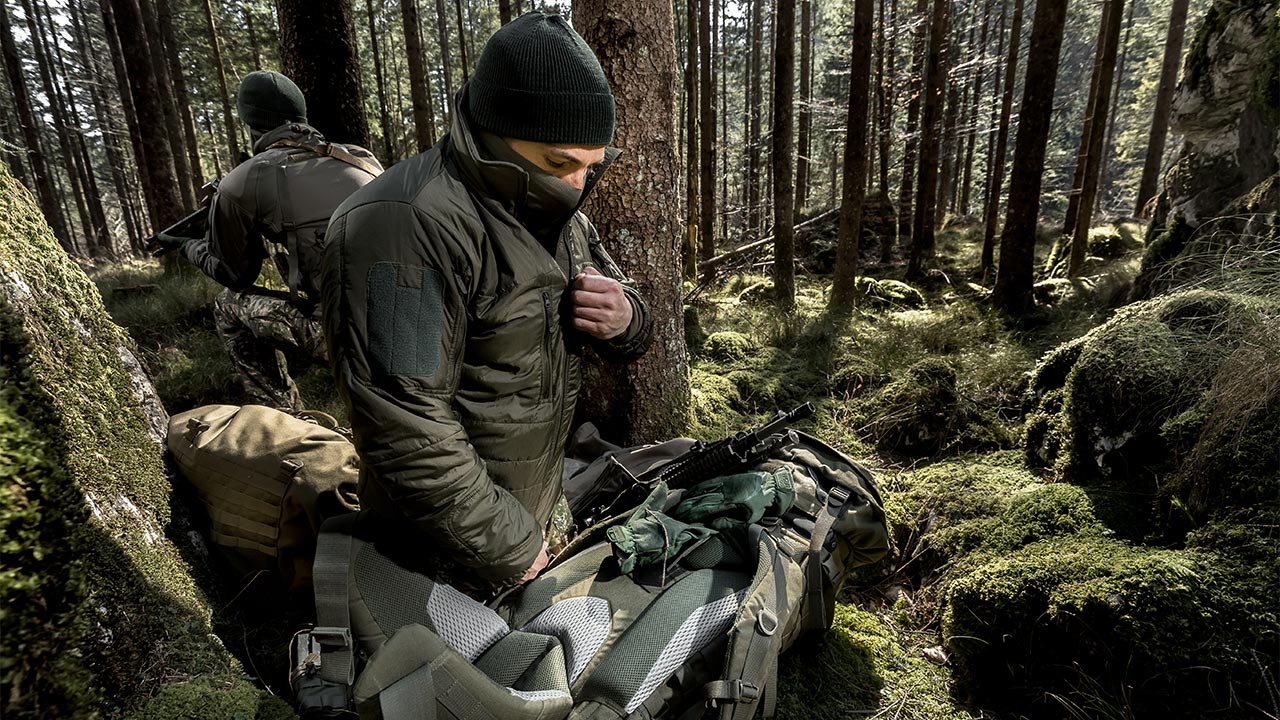 In this way, functionality and comfort are improved. But also improved is the operator's flexibility to add or subtract clothing layers as made necessary by weather conditions and/or intended activities.
The advantages of slim-fitting, or anatomic, designs are obvious. Still, the greatest challenge in translating them from the drawing board to the cutting table and sewing room is in providing the highest level of movability.
That's a challenge we are convinced we have met in the development and production of each of our UF PRO tactical gear offerings. It is for this reason that we believe the gear we manufacture is very special.
Is There a Downside to Ergonomic Clothing?
In the strictest sense and talking only about anatomic fit versus baggy clothing, one could argue there is a significant downside to the former. It is that anatomic (and more tightly fitted) clothing does not allow as much air to circulate between skin and fabric as is true of baggy clothing.
If you think about it, you can see why that would be the case. Baggy clothing traps more air. This larger volume of trapped air is able to circulate better than the air under a fitted garment.
The greater feel of airiness and circulation possible with baggy clothing can make the wearer feel more comfortable, even though such apparel is not as effective at dealing with air and moisture permeability as are tighter-fitting clothes.
We overcome this potential downside by installing zippers and mesh panels in strategic locations to create special ventilation openings. These openings facilitate airflow and moisture transport. Indeed, they do an excellent job of both.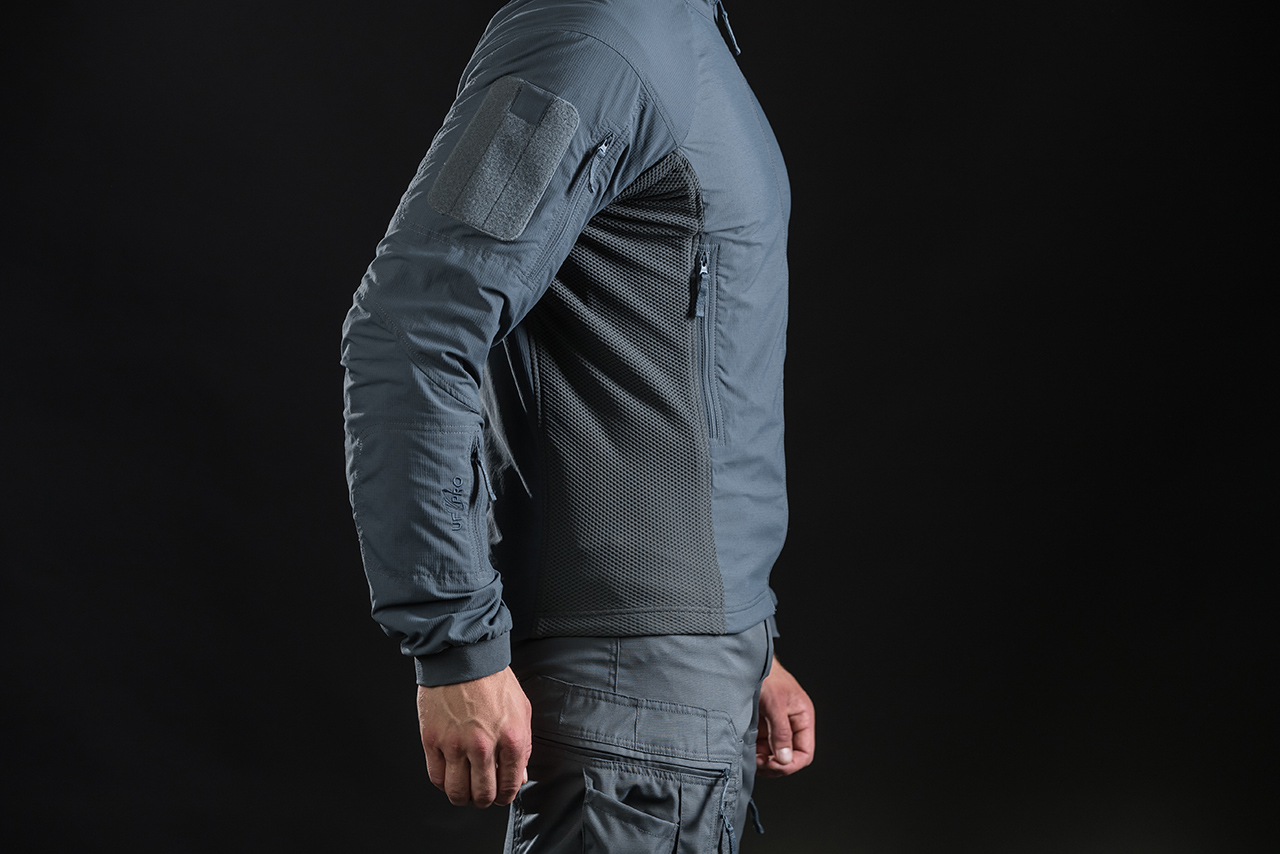 Ironically, with baggy designs, the larger volume of air can in some instances degrade functionality. For example, one of the key features of a hardshell waterproof GORE-TEX jacket is its excellent ability to transport interior moisture out and away.
This is possible because ambient moisture and temperature levels are typically lower outside the jacket compared to those inside, which produces a partial pressure gradient between warmer, moister air inside and the drier, colder air outside. As a result, in its search for equilibrium, moisture when you are active moves through the clothing to its exterior surface.
However, a baggy jacket sequentially traps more air between your skin and the membrane, thus reducing that partial water pressure and scaling back the membrane's capacity for moisture transport.
Another issue. Air between your skin and the garment acts as an insulator by trapping your body heat. This causes the temperature of the interface air to rise. In turn, that makes you sweat. The infusion of more moisture raises the temperature of the interface air, which makes you sweat more, and on and on it goes until you break the cycle by removing your garment. But as soon as you put it back on, the cycle starts back up again.
So, is there a downside to ergonomic clothing? In a word, no. Smart design and high-tech fabrics can eliminate what potential there is for a downside and instead deliver optimal results that directly benefit operators.