BROWSE UF PRO STRIKER COMBAT PANTS
NEXT-GENERATION COMBAT PANTS.
These are the combat pants that changed the world's view of what this type of garment is supposed to be all about. That's why Striker Combat Pants--with their incredible degree of free movement, superb system of highest-comfort knee-pads, and functional pocket configuration--are the top choice of many elite military and law-enforcement units around the globe. Discover why.
CONNECT YOUR OTHER GEAR.
Every pair of UF PRO® Striker Combat Pants is a team player. We designed them that way. They easily connect to your belt and shoes, so count on them to stay in position when you kneel or duck.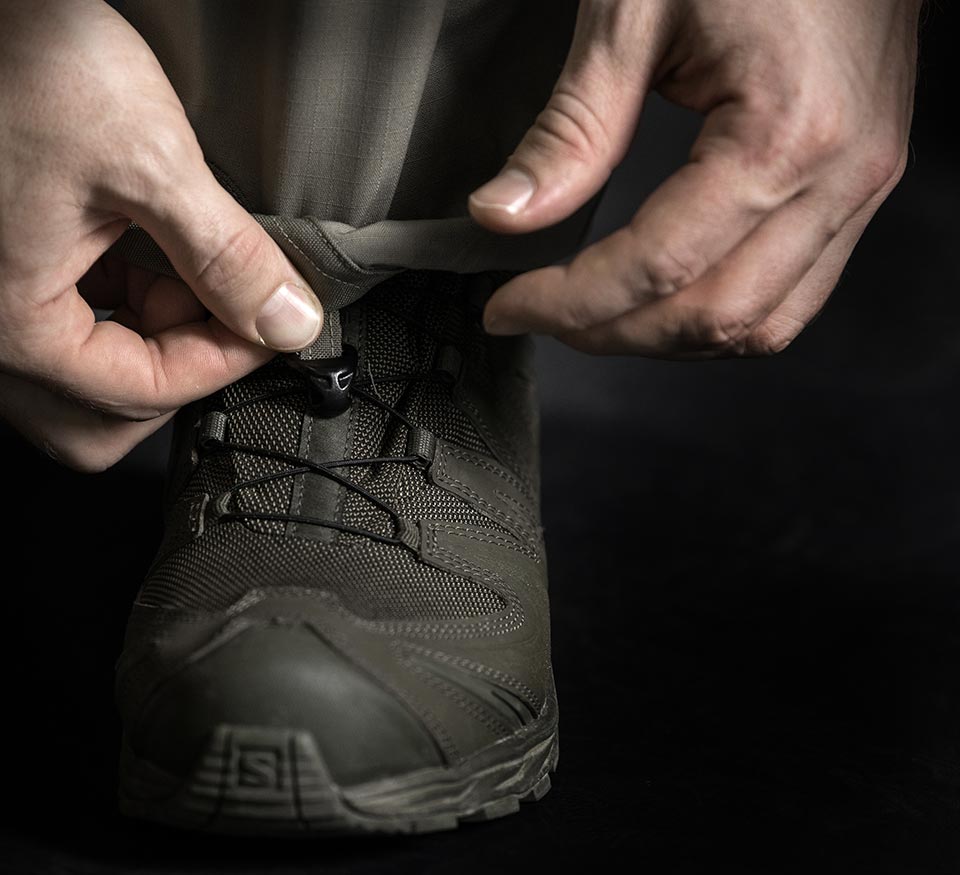 BOOT HOOKS
Connect each leg's boot hook to your shoelaces. From then on, the lower trouser legs won't hike up if you bend or sit.

DOUBLED BELT-LOOPS
Connect your duty belt fast and easy using the supplied extended doubled belt-loops.
WHICH UF PRO STRIKER COMBAT PANTS ARE RIGHT FOR YOU?
I'm an old UF PRO customer. I've purchased many garments UF PRO and they are all good products that I use every day. Striker X are the most suitable trousers for heavy duty work. Compared to the Striker HT they are a little stiffer, but surely after using them for a long time they will soften. A big praise for how the pockets were conceived and rearranged, all more functional and easy to access than all the other UF PRO pants. Striker X pants, in my personal opinion, deserve all five stars.
Gianni
Verified Buyer
---
I used to wear Crye G3 combat pants. But a buddy recommended I try UF PRO. I've since sold all my Crye apparel. The Striker XT gen 2 and Striker HT pants are amazing. The quality is unparalleled. Every seam is perfect. The fabric is durable yet comfortable. Stretch material in all the right places. Built-in system of kneepads that just work wonders I can't count the times the pads saved my knees. So many pockets and a wealth features not seen on any other pants. I currently rock the Striker XT gen 2 for most purposes. I save the Striker HT for hot days because the zip-open feature draws in a great deal of fresh air and that's really nice. Oh, and they look amazing too:)
Jesper
Verified Buyer
---
My Striker HT pants fit perfectly. They're also roomy, so I'm able to make fast movements. They've got integrated vent openings in the crotch, which keeps me comfortable in them on really hot days.The incorporated knee pads are exactly the right height. In my opinion, these are a cut above the P40 All-Terrains. Tip: Striker HT pants are unbeatable on cold days if you add in a UF PRO Windstopper lining!
Wolfgang
Verified Buyer
---
DON'T BELIEVE US? BELIEVE THESE GUYS…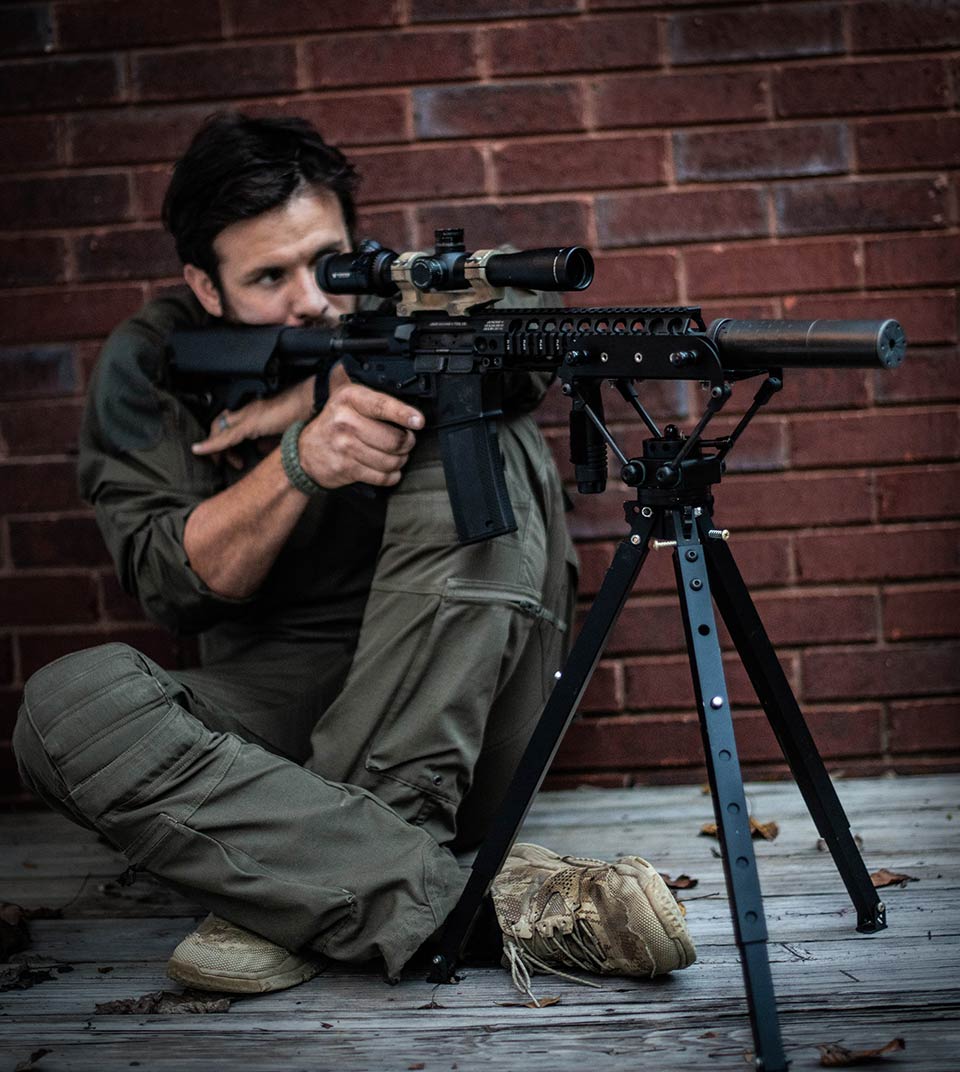 JARED HUDSON
EX-NAVY SEAL
"The Striker XT Gen.2 Combat Pants are some of the best (if not the best) tactical pants on the market. I've used a lot of tactical pants in my time as a SEAL, contractor, tactical law-enforcement officer, Big Game hunter, and competitive shooter. But, in my opinion and experience, UF PRO® combat pants are more comfortable, far more versatile, and very durable."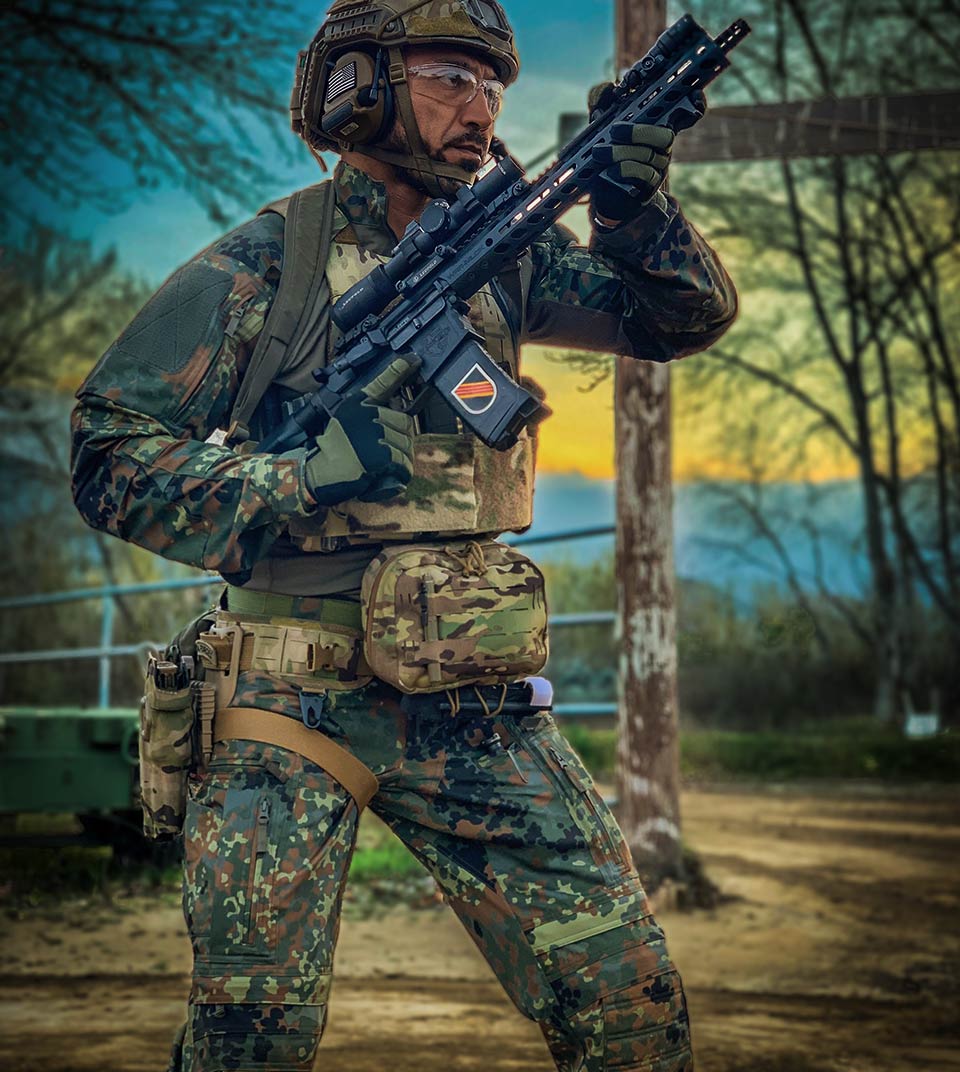 KAWA MAWLAYEE
FORMER ARMY GREEN BERET
"Striker HT Combat Pants are by far the best tactical pants on the market. UF PRO really hit a home run with their innovation and practical sense in designing these pants. These are my go-to pants for training and tactical applications. I really like the cooling airway vents, multi-pocket system, and fully customizable fit. In all my years in the Special Operations community, I've worn many high-end tactical pants. But these are the cream of the crop. They set the gold standard for what tactical gear should mean to the end user. My only regret is that these weren't around in my days as an assaulter."
FAQ'S.
Can I use knee pads inside my Striker Combat pants?
Yes. The Striker Combat Pants come with a modular kneepads system that lets you choose the type and amount of protection you want. For basic protection, pick the IMPACT version of our insertable 3D Tactical Knee Pads. For extra cushioning while kneeling, opt for the CUSHION version. Add penetration resistance by using Solid Pads.
How strong is the Schoeller stretch material in the seat of these pants?
It's extremely durable. In most cases, it'll even outlast NyCo ripstop material (which can take a lot of punishment). Read more about it here.
What's the flap on the side pocket for?
It helps stop gear you're carrying (like your phone or tactical tools) from falling out when you bend down. The idea is to make sure what's in your pockets stays there until you actually want them to come out.
Are Striker Combat Pants machine washable?
Yes. But please be sure to follow the laundering instructions on the care tag inside the garment. For best results, we recommend you dry them on a clothes line only. Read our Guide to Wash Care Symbols here for more information about washing and drying Striker products.
Important! Avoid using bleach or colour brighteners. The can damage the near-infrared properties of your Striker product.
Are these pants flame-resistant?
Normally no. We do make a flame-resistant version, but only by special order for military units and police officers.
GET MORE INTEL.
Read our blog. Learn more about the materials we use. Learn why we design the features of our gear the way we do and learn how to keep it in top shape.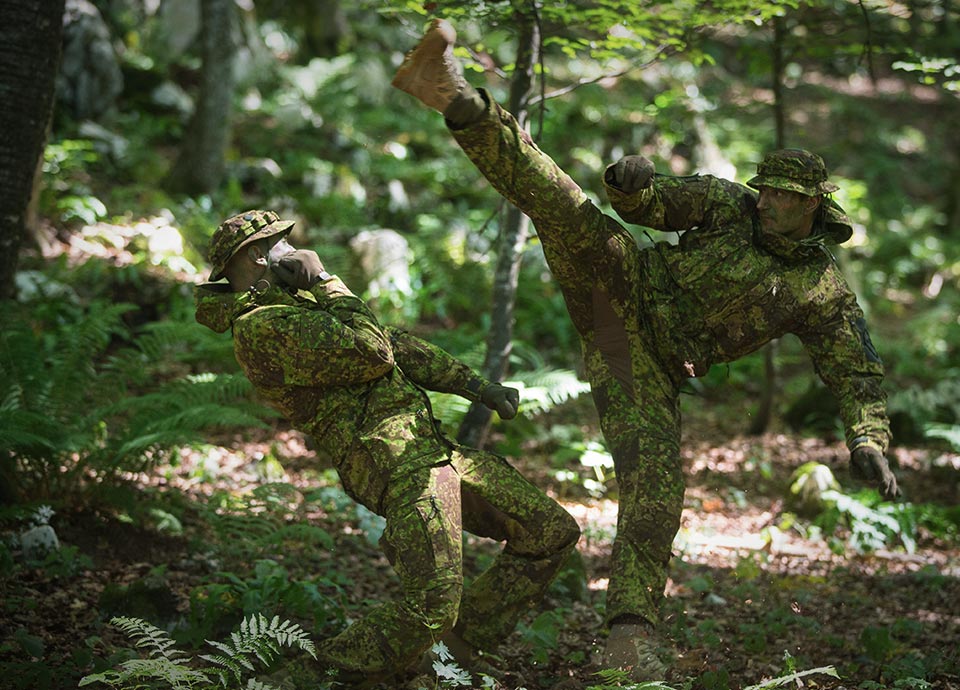 Anatomic cut - is it just fashion?
Clothes that fit look better than clothes that are baggy. But fashion isn't the top goal at UF PRO. The top goal is clothing that works as hard as you do. Clothing that's first for comfort and safety.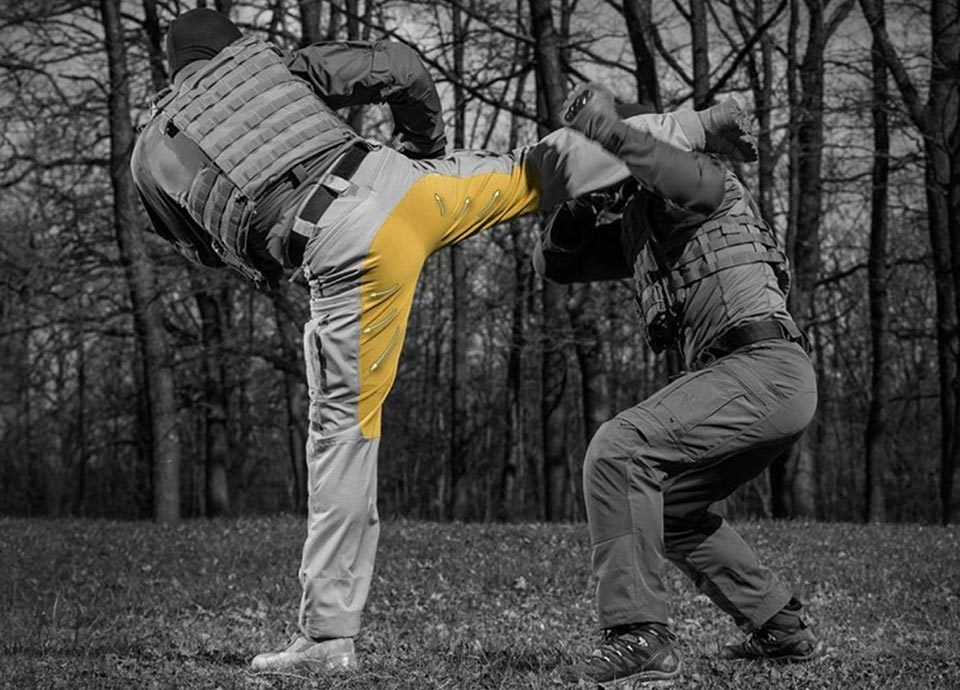 The breaking point of Schoeller Stretch material
"Is this stretch material going to always hold up?" We get asked that a lot by people looking to buy our P-40 and Striker combat pants when they see we've used schoeller®-dynamic stretch material. Read on to learn how we answer that question.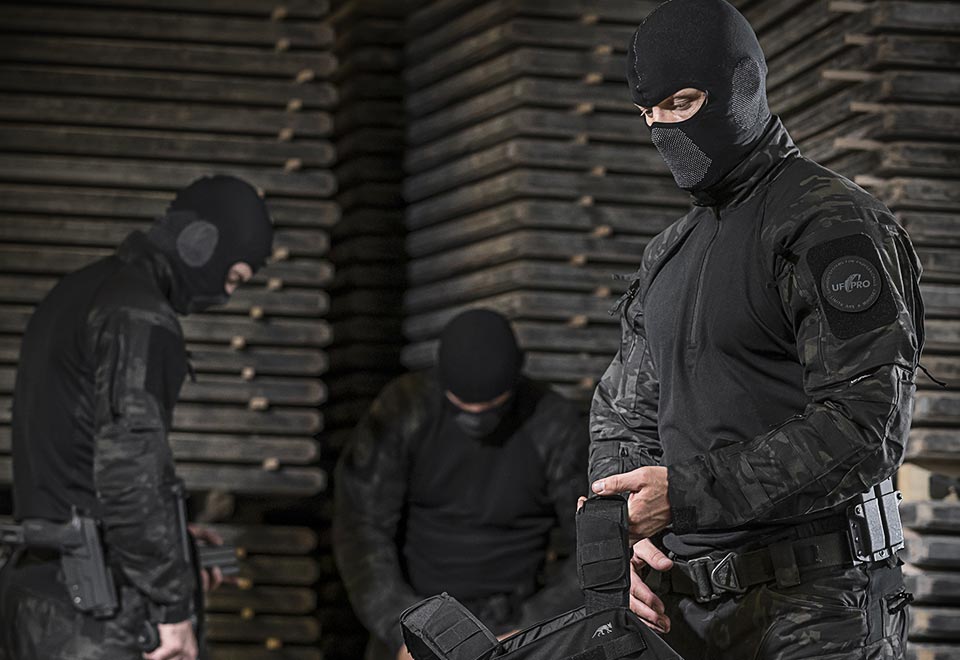 COMBAT SHIRTS
Gear up with combats shirts for weather of all kinds - hot to cold, wet to dry, calm to windy.