All UF PRO gear in MultiCam
Get more intel about MultiCam.
MultiCam was first introduced in what year?
First introduced in 2002, MultiCam was designed for multi environment use by the U.S. Army. In 2010, this pattern officially replaced the Army's then Universal Camouflage Pattern (UCP). At the time, the old UCP was used by units deployed to Afghanistan for operation Enduring Freedom (codename OEF-CP).
What colours make up MultiCam?
The pattern is designed from a seven-colour scheme, ranging from brown to green. MultiCam's background features a brown to light tan gradient overprinted with a dark green, olive green, and lime green gradient. Additionally, it has a top layer of opaque dark brown and cream-coloured shapes spread throughout the pattern.
How effective is the MultiCam pattern?
It blends well in many environments, elevations, seasons, weather conditions, and times of day. The design takes advantage of the way the eye and brain work. Only a very small portion of the eye perceives colour, shape, and volume. It relies heavily on the brain to fill in what gets left out.
It tricks both the eye and brain into perceiving the pattern as simply part of the background.
Is MultiCam considered a digital or analog camouflage pattern?
MultiCam is a digital camouflage pattern, meaning that it is generated by a computer. Most digital patterns are pixelated because they are easier to create on a computer. Programming a million blotches is harder than having a computer produce patterns of differently colored squares.
Are OCP and MultiCam the same?
OCP is a U.S. Army term that stands for Operational Camouflage Pattern. MultiCam is the Army's current OCP and is codenamed Scorpion.
However, as of October 2019, a variation of MultiCam/Scorpion known as Scorpion W2 was placed into service. Scorpion W2 employs the same geometric shapes as MultiCam/Scorpion. But Scorpion W2's colours are darker and more pronounced (compare the difference in the image below).
Nations employing Multicam currently are Australia, Chile, Georgia, Maldives, Netherlands, New Zealand, and Panama. Multicam has been officially adopted by Denmark to replace its long-standing M84 pattern. A variation is licensed to Montenegro. MultiCam is also used by various SF Units around the world.
OGLEJ SI DRUGE KAMUFLAŽNE VZORCE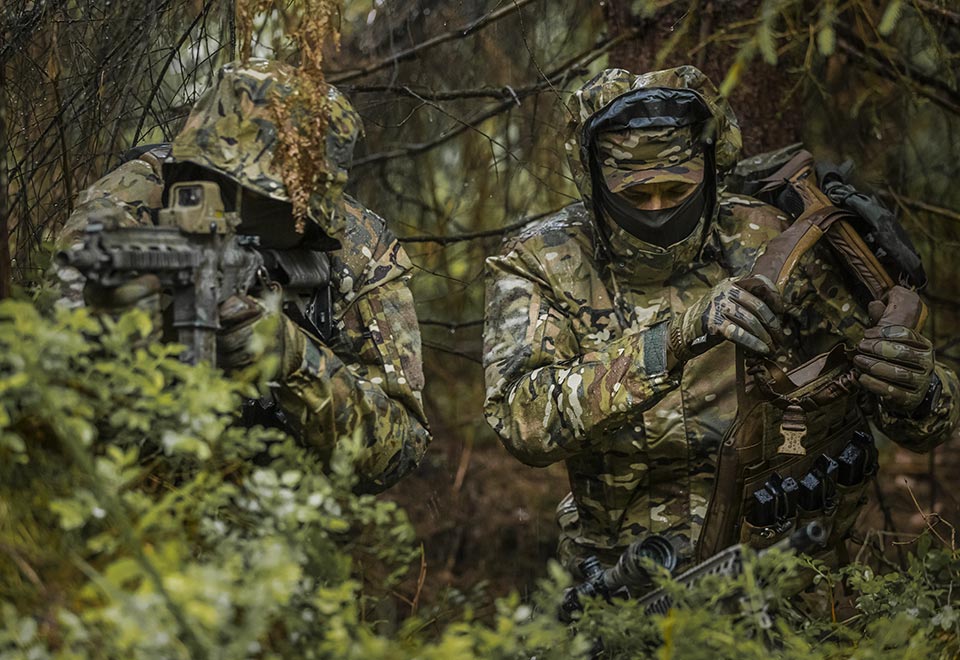 MULTICAM
Uradni kamuflažni vzorec ameriške vojske v Afganistanu in vzorec, ki ga uporabljajo vojaške sile po vsem svetu. Idealen je za uporabo v neverjetno širokem razponu lokacij, situacij in razmer. Njegove visokotehnološke oblike in velikosti vzorca gredo z roko v roki z edinstveno barvno paleto (odtenki rjave, zelene in rumeno rjave), ki ovirajo vizualno prepoznavanje in skrijejo tvoj infrardeči podpis.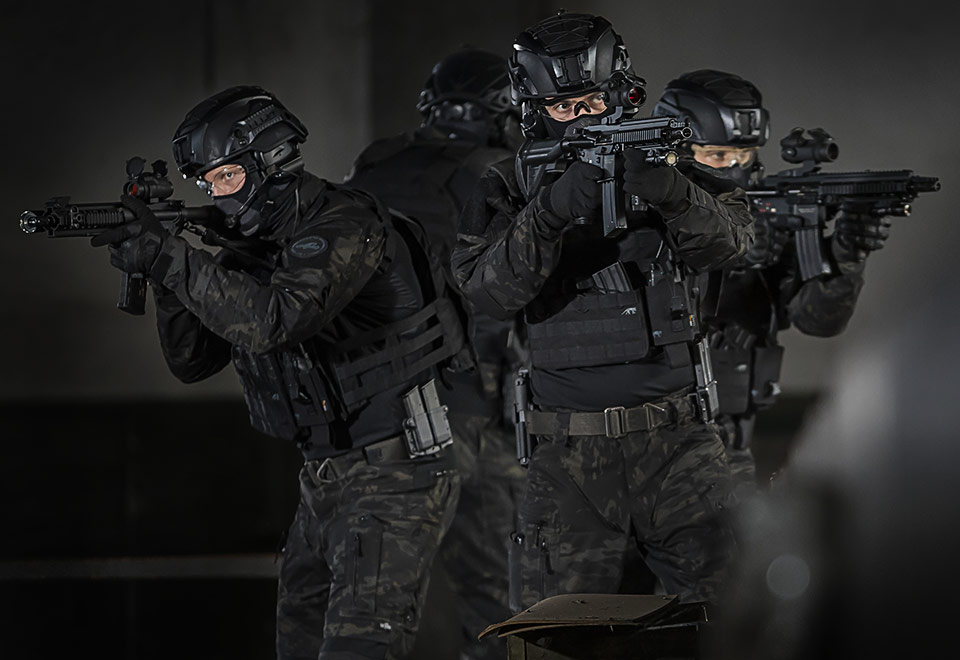 MULTICAM BLACK
MultiCam Black vzorec se pogosto pojavlja v taktični opremi, ki jo uporabljajo policijske in vojaške posebne enote. Pojavlja ni ravno najboljša izbira besed, saj je ta kamuflažni vzorec popolno nasprotje pojavljanja, če ga nosiš med nočnimi operacijami, saj si v tem primeru praktično neviden. V večini primerov pa je namen MultiCam Black vzorca odražanje avtoritete.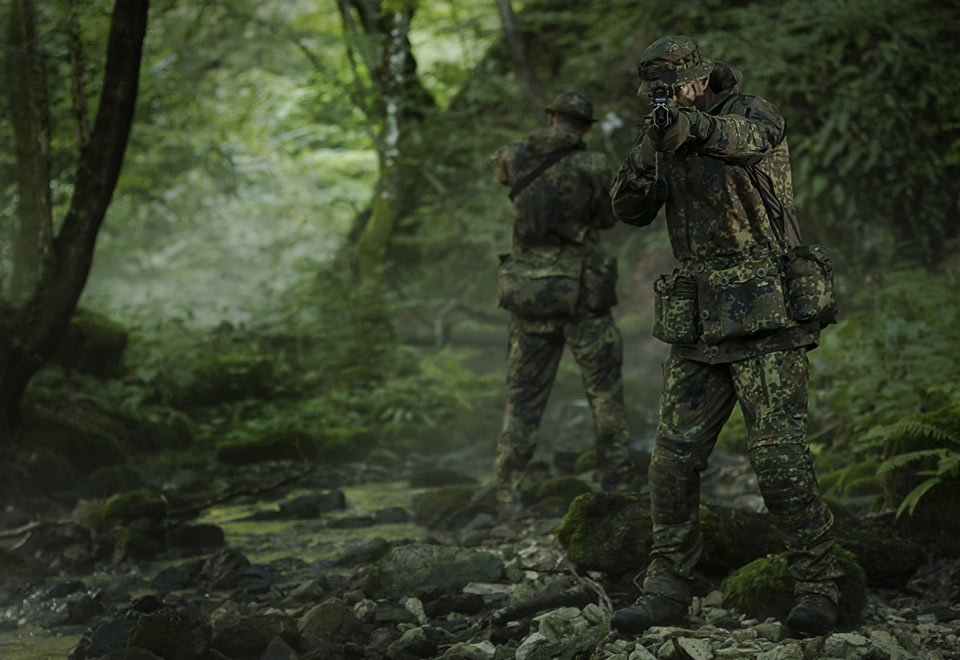 FLECKTARN
Kamuflaža Flecktarn, uradni sistem za prikrivanje nemške vojske, se poslužuje znanosti o psihologiji zaznavanja, zato ti omogoči, da ostaneteš skrit. Kamuflaža je sestavljena iz lisastega vzorca z najmanj tremi in največ šestimi barvami, ki se ujemajo z naravnimi barvami srednjeevropskih gozdov. Ima izredne značilnosti vizualnega motenja.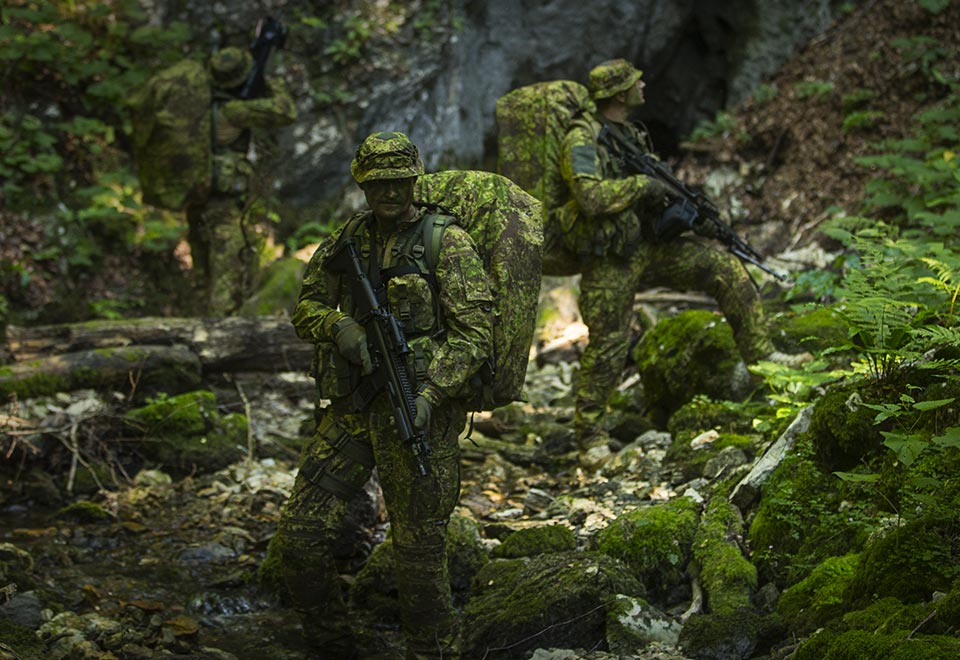 PENCOTT GREENZONE
Vzorec sestavlja zapletena kombinacija majhnih in velikih pikčastih oblik v barvah temno sive, zasenčeno rjave, travnato zelene in seneno rjave, ki skupaj ustvarjajo iluzijo niansiranja in dodatnih barvnih odtenkov. Učinkovito zavede oči, tudi iz neposredne bližine. Še posebej dobro deluje v zelenih gozdnatih območjih in v odprtih traviščih z zmernim podnebjem.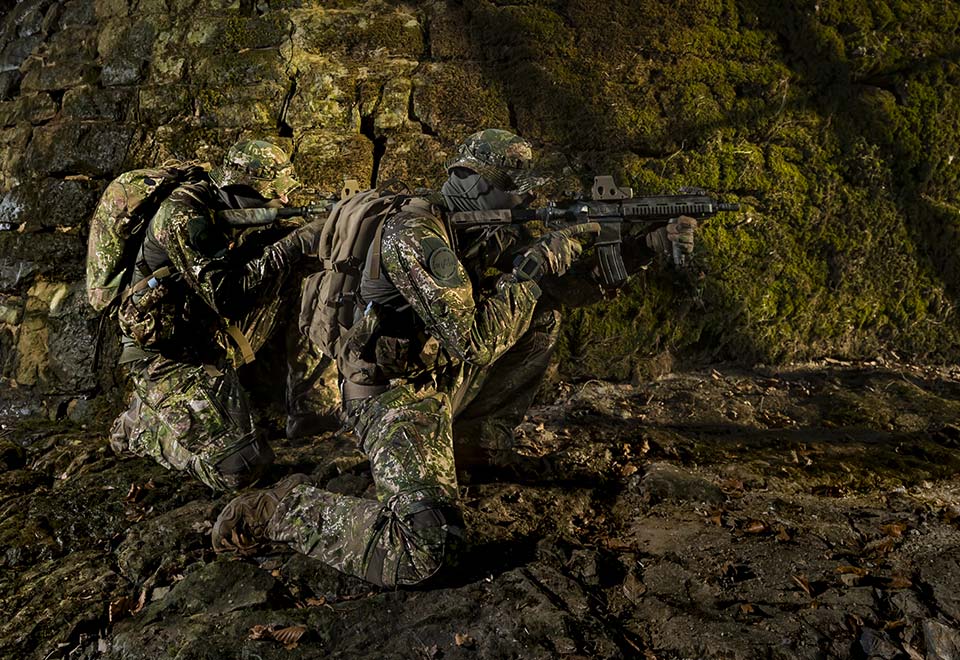 CONCAMO
CONCAMO je kamuflaža, katere namen je povzročanje zmedenosti. Ustvarja namreč 60 plasti zaznavne globine z le 8 barvami, razporejenimi v znanstveno sestavljeni vzorec oblik in odtenkov. Tako dobro lahko prevara vaše možgane in zmede tvoje oči, da boš to kamuflažo brez razmišljanja izbral za vašo naslednjo operacijo v gozdovih, travnatih površinah, goratih terenih, sušnih območjih, vaseh ali mestih.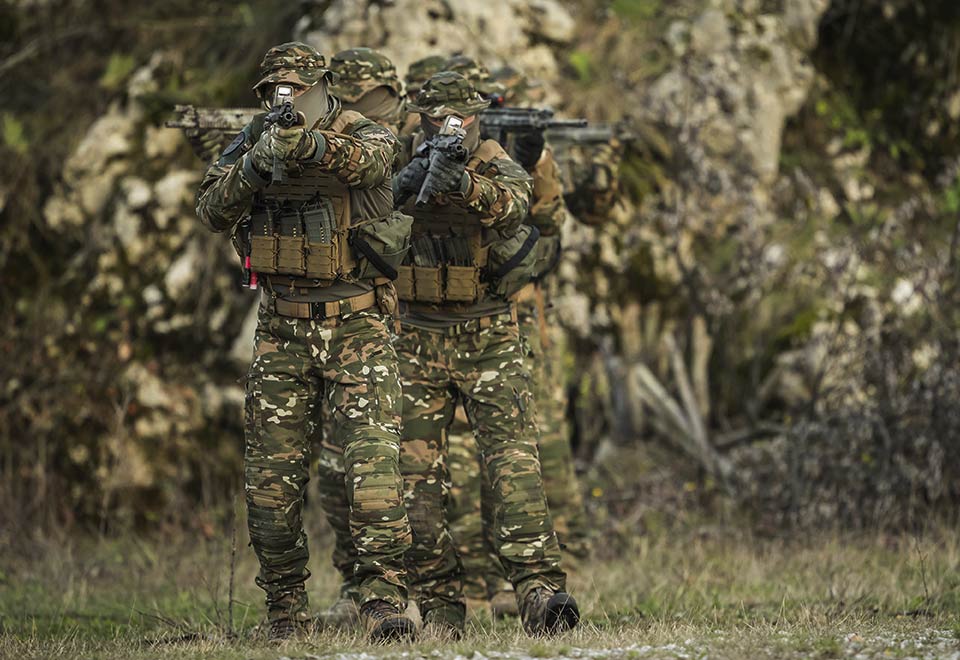 SLOCAM
Ne glede na to, ali je vaš cilj skriti ostrostrelca ali prikriti celoten regiment marincev, je SloCam idealna izbira. Kamuflaža uporablja kombinacijo olivno zelenih in rjavo-zelenih odtenkov, zaradi česar je vsakogar, ki se skriva med drevesi ali v grmičevju, zelo težko opaziti iz razdalje. Ujema se z barvami in vzorci NATA za vojaške enote držav članic, ki sodelujejo v skupnih operacijah.