We admit that slim fitting clothing definitely looks better than baggy pants and jackets. But our first priority isn't fashion, it is top class clothing, which offers superior functionality, comfort and safety.
SLIM-FIT TACTICAL PANTS.
What does that mean for example for our pants? The big challenge for making anatomic cut pants is that the human body heavily expands and contracts in this area, while in motion. Therefore, a baggy pant design is also considered as a synonym for comfort, as one thinks:
the tighter the fit, the bigger the danger to limit movability.
But if you manage to overcome this possible limitation with a clever cut and design, then slim-fit pants offer less possibility to get caught.
This is definitely a safety improvement compared to the baggy pants design.
Another advantage is that whatever add-ons and functional elements slim-fitting pants provide, things can be kept in place much easier. If cleverly designed, then they do not have to be adjusted with additional straps, hooks, loops and buckles.
The knee protector pockets of our pants are a good example for that. Without any additional strapping, our knee protection will always stay where it should perform.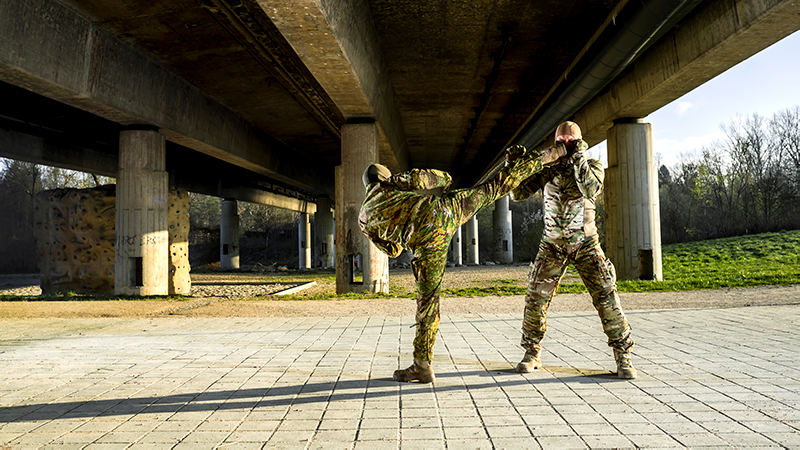 ---
SIGN UP FOR MORE INTEL LIKE THIS.
Enter your email and stay in the know with updates about tactical clothing and other relevant topics.
Prijavljaš se na naše e-novice, od katerih se lahko kadarkoli odjaviš.
Preberi več o tem v sekciji "zasebnost".
---
HOW ABOUT JACKETS, SHIRTS AND PULLOVERS?
The upper torso physiology is quite different to the lower torso and leg area.
Nevertheless, the objective for designing garments for this area is very similar. In order to support functionality and safety, tight-fitting jackets must provide a maximum of movability.
As most of the upper body clothing is part of a layering system, also known as the onion skin principal, only an anatomic cut of each individual item makes sure that one does not end up as a Michelin Man, when wearing several layers of clothing.
Like this not only functionality and comfort are improved, but also the flexibility to adjust the various layers of a given set of clothing to the climatic conditions and the intended activities.
Even though the advantages of slim fitting or anatomic designs are obvious, the greatest challenge is to simultaneously provide the highest level of movability.
This is why we are convinced that all our UF PRO® tactical gear offers something very special.